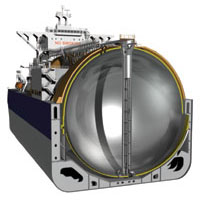 Origin Energy is getting a lot of attention from analysts after the company announced it was starting a sale process for a $1 billion-plus
stake in its $23 billion Queensland liquefied natural gas project. The company has also given the green light for a second production unit.
It will offset the dilutive impact of a $1 billion share issue and will encourage the market to price in more aggressively the Australia Pacific LNG venture.
Citi likes it has a buy and $16 target price:
"Selling an additional stake in APLNG is positive on two fronts. Firstly, it should alleviate the need for ORG to raise further equity capital. Secondly, ORG will likely realise a value for APLNG significantly higher than that reflected in the share price. Based on the Sinopec transaction metrics, a further 7.5% dilution in APLNG and hence reduced equity calls, we estimate that our valuation, all else being equal, would rise to approx. $16.45 per share."
JP Morgan has an overweight recommendation and a higher target price of $17.15:
"While the USD-based capex cost of the project remains unchanged at US$20bn, the AUD figure – announced for the first time today – is higher than expected at A$23bn. Nevertheless, the returns on the project remain attractive and we still hold the view that the market is ascribing very little value to the project. ORG remains our preferred merchant utility – Overweight maintained."
The stock is on a prospective net dividend yield of 3.9% and a prospective eaqrnings multiple of 19 times, which is mid range. There is potential upside in a possible increase in utilities margins, and possibly more strong domestic gas contracts. But execution reamins a question mark, and the company's capacity to retain customers may also be a problem.
UBS looks at the credit rating issue:
"Maintenance of credit rating remains a focus. ORG believe that post sell down to 30% there is no need to raise equity to preserve its credit rating. UBS analysis suggests a funding shortfall of $950m over FY13-15. We note that S&P today affirmed its BBB+ rating but has revised its outlook to negative given uncertain conditions regarding a sell down, which may weaken ORG's financial metrics."
It is a positive response, but the market is likely to wait to see how the sell down process plays out before making a definitive move.