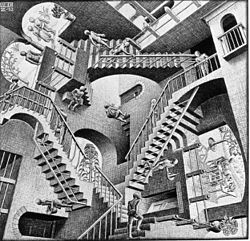 The Economist recently had an article on Ray Dalio, hedge fund manager and founder of Bridgewater. The article quotes Paul Volcker describing the degree of detail in Mr Dalio's work as "mind-blowing", adding that "he has a bigger staff, and produces more relevant statistics and analyses, than the Federal Reserve." So it was with some interest that I glanced at the Template for Understanding, a quick description of the analysis on which the Dalio's philosophy is based. It is certainly simple, which is refreshing. After saying that the economy is "like a machine" he looks at the primary fact of markets — transactions — and concludes that "while seemingly complex, an economy is really just a zillion simple things working together, which makes it look more complex than it really is," He considers motivation, in other words, regarding transactions as an "act" rather than a scientifically observable "fact".
Perhaps most interesting is this comment he makes about the so called "balance" between supply and demand:
While in any market there are lots of buyers and sellers, and these buyers and sellers have different motivations, the motivations of the most important buyers are usually pretty understandable and adding them up to understand the economy isn't all that tough if one builds from the transactions up.

What I am saying is conveyed in the simple diagram below. This perspective of supply and demand is different from the traditional perspective in which both supply and demand are measured in quantity and the price relationship between them is described in terms of elasticity. This difference has important implications for understanding markets.
This is different from the conventional economic bias towards quasi-scientific quantification.
Yet what emerges as one reads the tract is not a concentration on psychology but something very different. My first thought was to take issue with the opening claim that the economy is like a machine. Machines are not full of self aware parts each trying to outdo the other. At best it is a weak metaphor, at worst fundamentally deceptive. Indeed, Dalio's concentration on the psychology of transactions contradicts his own simile. But as I went through his description of the basic elements of economies — goods and services for exchange, money and credit —  another thought or two occurred.
First, the economy may not be in truth a machine, but those who attempt to interpret think it is like a machine. That means independently acting, knowing and self aware individuals are trying to imagine collectively what it would be like if they were not independently acting, knowing and self aware. As if they were just robots reacting to supply and demand forces, "perfect" information and a slide rule with greed at one end and fear at the other. The metaphor thus becomes self proving, even though its premises are questionable. This in a sense makes the financial system more predictable, and more amenable to the kind of analyses Dalio employs. It also makes for an impoverished collective imagination.
The second problem I had was with what was missing from the analysis. Dalio talks of credit creation and long and short term cycles. But there is no mention of the explosion of meta money over the last 15 years. You know, things like hedge funds. The $700 trillion of derivatives that continue to accumulate. The high frequency trading that is taking over many markets. Unless one puts this under the category of "credit creation" — and some of it certainly is, especially highly leveraged hedge fund activity — then it is extraneous to Dalio's simple model.
In truth this meta money is new, and increasingly dominant. We have a new sphere of transactions emerging that is based on exploiting the more conventional sphere of transactions by assuming that the conventional sphere operates like a machine. Then massive amounts of that "machine metaphor money" (i.e. the meta money invested players like Dalio) is applied to try to exploit the outcomes of the system. It is a very strange sort of loop, not unlike a Martin Escher drawing. Humans trying to behave like machines while demonstrating that, no matter what they do, they remain human. A very human consequence — mess — is likely to be the eventual outcome. The GFC was probably only the prelude.