The Roy Morgan February unemployment number is out and has corrected somewhat, not unexpected for February:
Unemployment was 9.7% (down 0.6% since January 2012) — an estimated 1,182,000 Australians were unemployed and looking for work.
A further 7.9% (up 0.4%) of the workforce* were working part-time looking for more work (underemployed) — 962,000 Australians.
In total 17.5% (down 0.3%) of the workforce, or 2.14 million Australians, were unemployed or underemployed.
The Australian workforce* in February was at 12,228,000, (down from a record high of 12,429,000 in January, 2012 but up 531,000 since February 2011) — comprising 8,000,000 full-time workers (up 8,000 since February 2011); 4,228,000 part-time workers (up 523,000 since February 2011) and 1,182,000 looking for work (up 255,000 since February 2011).
The latest Roy Morgan unemployment estimate of 9.7% is now 4.6% above the 5.1% currently quoted by the ABS for January 2012.
"In February unemployment has fallen 0.6% to 9.7% (1,182,000, down 96,000 from January). The fall in unemployment in February was not unexpected as unemployment has now fallen in 16/20 years since 1993. However, despite the fall, this is the highest number of February unemployed ever estimated by Roy Morgan and the highest rate of February unemployment in over a decade since February 2001 (10.4%).

"Additionally, a further 962,000 (7.9%) Australians are underemployed — up 28,000 from January. This means a total of 2.14 million Australians (17.5%) are either unemployed or underemployed — the third straight month that more than 2 million Australians have been looking for work or looking for more work.

"Unemployment traditionally drops in February as Australians return from their holidays and school leavers and University graduates return to study or take up positions in the workforce. Illustrating this trend is the drop in unemployment amongst the youngest age groups: 18-24yr old unemployment (18.1%, down 5.9%) and 14-17yr olds (7.4%, down 2.1%) both dropped significantly in February in contrast to 25-34yr olds (10.5%, up 1.6%).
I've also attached an image below of the last four years of raw data. If you look, you'll see that this correction is larger than the last tow years in February so there is no evidence that the January spike is unwinding at a noteworthy pace: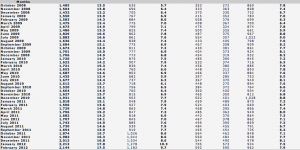 The mystery of the gulf between this measure and the ABS (released next week) continues…