Earlier this month I said:
So we could see a de-coupling between economic outcomes and market performance particularly should quantitative easing recommence in the US, Europe and the UK
I really think this is and remains a tradable investment theme in at least the first part of 2012 and the equity market, as represented by the S&P 500 which is moving this way so far as you can see in the chart below: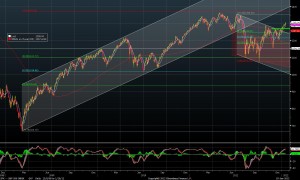 And so it is this morning that I must declare that I'm sick of being pessimistic, sure it's made me money and helped pick both the market and the economy right for most of the past few years, actually getting on for to four now. But I'm over it, I want to be positive again, Europe stumbled in 2011, is stumbling still but it hasn't blown up yet, the world hasn't ended and it will hardly be a surprise if Greece defaults on its debt. Just like it hasn't been a surprise over the past week with France and others getting downgraded along with the European rescue package itself losing its AAA rating.
Indeed markets may not have exactly shrugged all this off but they have generally taken these latest events in their stride and so it was in Asia yesterday and Europe and America overnight with equity markets generally still higher even as the World Bank pronounced that,
 "…The world economy in 2012 is set to grow by just 2.5 percent, weighed down by ripple effects from the 2008 financial crisis…developing country growth for 2012 is now forecast at 5.4 percent, the second lowest over the past 10 years. The Bank has also lowered its growth forecast for high-income countries in 2012 to 1.4 percent and -0.3 percent for the high-income Euro Area. Reflecting the growth slowdown, world trade, which expanded by an estimated 6.6 percent in 2011, will grow by only 4.7 percent in 2012, before strengthening to 6.8 percent in 2013. Risk aversion stemming from the Euro Area debt crisis has spread to both developing countries and other high-income countries."
Nothing fresh, new or earth shattering there as far as I can see – this is of course the helicopter or very high level summary – and perhaps why it and the other bad news recently has largely been ignored.
I get a sense that for all the warnings of doom and gloom, we will actually need to see some real trouble, say a messy and chaotic Greek default, for the market to turn down. No doubt, later in the year, when real economic pain returns, the risk is that markets will resume falls, but for the moment in the New Year hope abounds.
www.twitter.com/gregorymckenna
Please remember these are not recommendations for you to trade these are my views and I have my risk management tools and risk parameters that you do not have access to. Thus, this blog is for information only and does not constitute advice. Neither Greg McKenna nor Lighthouse Securities has taken your personal circumstances, objectives or financial situation into account. Because of this you should, before acting on this information, consider its appropriateness, having regard to your objectives, financial situation or needs.