The Property Council of Australia (PCA) is one of those lobby groups with a blatant disregard of the facts and a history of political influence – the kind you love to hate.  For example, the PCA made a submission to the Queensland government outlining how planning laws that promote densification are likely to increase greenhouse gas emissions compared to planning for more urban sprawl.
They cite a 2007 Australian Conservation Foundation study to give their position merit.  But the study actually says is that environmental benefits from increased density are wiped away by wealth and consumption effects. Essentially, living in smaller dwellings closer to conveniences reduces households' greenhouse gas emissions, but these households are generally wealthier, and thus have higher greenhouse gas emissions overall. No surprises really.
But when the PCA got wind of this study they conveniently neglected to mention this important fact, and commissioned a report that produced a number of pretty tables and graphs to show how urban sprawl has positive environmental benefits. They then used this report to lobby the Queensland government to change their Climate Change Management Plan.  No doubt it will be added to the arsenal of biased reports used to influence the development of the local and State planning instruments across the country.
I may as well start by stating the obvious. The group commissioned to produce the report are called Wendell Cox Consultancy – I assume it is the same Wendell Cox who wrote the book, War on the Dream: How Anti-Sprawl Policy Threatens the Quality of Life.
Here is the great deception. Plotting one variable at a time against per capita or household greenhouse gas emissions (as shown below) neglects all the other variables that have an impact. This type of analysis suffers from omitted variable bias – that is, the key variable that explains the greenhouse gas emissions is left out.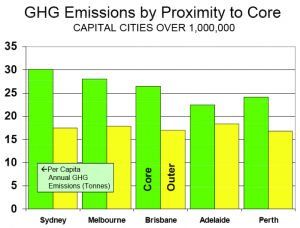 When we do some actual statistical analysis on the same data we find that income is the main determinant of personal or household greenhouse emissions.
After controlling for age, persons per household, State, degree of urbanity (capital city or other), we find that dwelling type (a proxy for sprawl, proximity to CBD etc) is significantly correlated with total household greenhouse gas emissions from consumption – ceteris paribus, the smaller or more dense the housing type, the lower the household greenhouse gas emissions. The table below summarises the potential greenhouse gas benefits of densification when using this type of analysis (where separate house is the baseline).
All data is from the Integrated Sustainability Analysis group at the University of Sydney who also produced the figures for the Australian Conservation Foundation on which the Wendell Cox report is based.

Clearly, the arguments of the Property Council are based on a misrepresentation of the data, and we should take this as a lesson when dealing with interest groups in public policy debates.
Tips, suggestions, comments and requests to [email protected] + follow me on Twitter @rumplestatskin
Latest posts by Rumplestatskin
(see all)