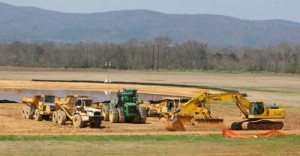 FT Beyond Brics flagged a report from Bloomberg Businessweek on the pessimistic outlook from Zoomlion Heavy Industry Science and Technology's (1157.HK) boss Zhan Chunxin, saying that "Demand for construction machinery has shrunk drastically and growth will no doubt continue to slow next year".
There are a number of things that drive his pessimistic outlook, as Beyond Brics have pointed out.  One of those things could be the slowdown in high-speed railway investment, as it makes little economic sense, and the recent crash has apparently lessened enthusiasm among the people.  Another thing is the hugely ambitious plan to build public housing, which has been largely reduced to diggin holes, even though the government makes it sound like the housing starts plan is achieved.  So as these main users of construction equipment are slowing down their pace of investments, the manufacturers of said equipment are right to feel gloomy.
Of course, the biggest impact is likely to be a cooling real estate market (particularly if we are talking about a major trend reversal). The IMF has come up a report which highlights the risk towards Chinese financial system, and predictably, the level of real estate prices is one of the concerns (along with shadow banking system and the credit expansion over the past few years).  Indeed, even the China Banking Regulatory Commission (CBRC) are telling banks to "step up asset sales and debt restructuring for loss- making local government financing vehicles that are struggling to repay loans" as well as to "cut "high-risk" loans to developers", according to Bloomberg.
Now everyone "knows" that the Chinese government won't allow property prices too far (whatever figure that is), and everyone "knows" as well that the Chinese government will for sure support the market and is certain to succeed!  As you might have noticed, I am sceptical about the ability of the government to engineer whatever scenario they like.  While there has been some selective easing happening, and loans growth have picked up somewhat, the big questions remain on the timing, the size and the effectiveness of the easing and just what happens to a private market when sentiment breaks.