The General Administration of Custom of China published the latest set of trade figures yesterday.  First, on a month-on-month basis, both exports and imports fell.  Exports fell by 7.2% in October on a non-seasonally adjusted basis, or –1.4% on a seasonally adjusted basis, while imports fell by 9.5% on a non-seasonally adjusted basis, or +3.2% on a seasonally adjusted basis. 
On an year-on-year basis, exports increased by 15.9% vs. consensus of 16.1%, while imports increased by 28.7% vs. consensus of 22.2%.  The trade surplus widened from US$14.4 billion to US$17.03 billion in October, well below expectations of US$25.75 billion.
Not surprisingly, as the European debt crisis intensifies, export growth to the US slowed from 9.8% yoy in September to 7.5% yoy in October. And new orders were uninspiring as well.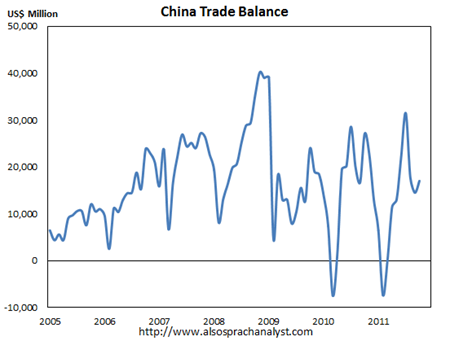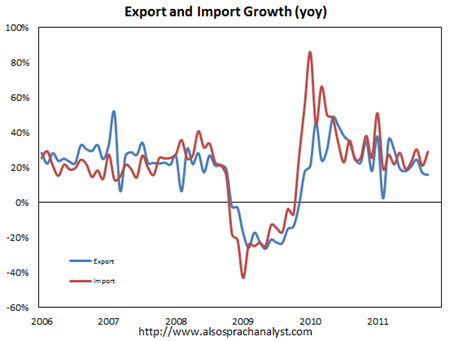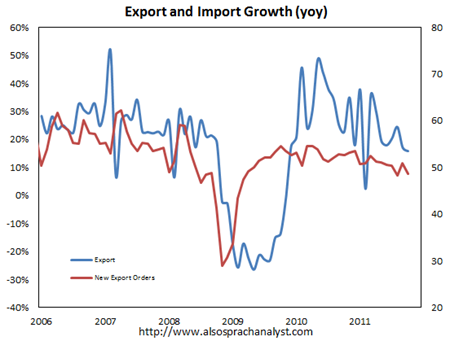 Source: General Administration of Customs
This is unimpressive data from China.  Even though the trade balance bounced back slightly, exports have fallen by 7.2% before seasonal adjustment, and 1.4% with seasonal adjustment.  The latest set of data once again reminds us of the weak global outlook, particularly in Europe.  The good news is that imports are holding up well, so it appears that domestic demand is relatively intact.  Whether it can still hold up well in the coming months and quarters will depend on how much slower the economy can get.