China's official manufacturing purchasing managers index (PMI) declined in October after improving for two months.  The headline PMI declined from 51.2 in September to 50.4 in October.
Once again, new exports order dipped below 50 after improving for a month, indicating weaknesses in the global demand continues as the global economy slows.  The new orders index also fell slightly from 51.3 to 50.5.
The biggest good news here is that input price index has fallen decisively to 46.2, below 50, indicating that price pressure is fading.  This is, of course, also a manifestation of weaker demand, but consistent with the view that inflation could fall significantly in the months to come.
To the charts: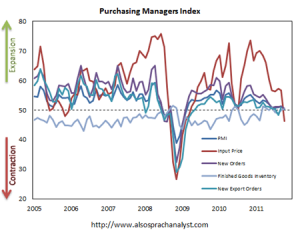 To compare the October PMI with the same period of previous years, we can once again see that this is the weakest October since records began (except 2008 when the financial crisis hit), followed by the underwhelming bounce of the index in September, which is usually associated with Christmas season order.  The new exports order is also very weak compared to all but one previous years: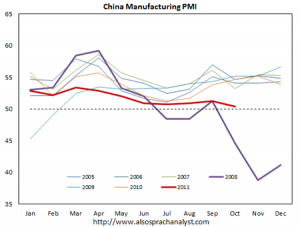 As is new export orders: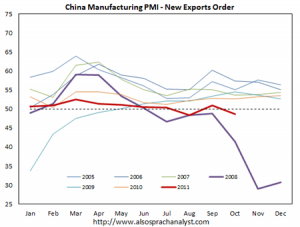 This is a weak report.  The bright spot here is that it confirms that price pressure is fading, and if that feeds into CPI inflation in the months to come, we could see the case for monetary easing probably in the first or second quarter next year, and that's something market has been desperately hoping for.  Other than that, the economy is not falling off the cliff yet, but certainly not doing brilliantly well either.