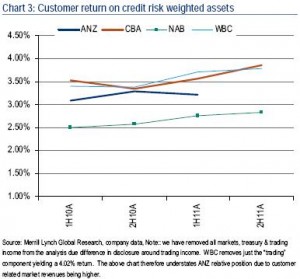 Analysts are looking at banks at the moment, with the tone being, for the most part, sceptical. Westpac is getting the most attention; the consensus seems to be that it is accurately prices. Royal Bank of Scotland has a hold and has slightly raised its price target to $23.69. RBS is not all that impressed:
While WBC's two-year underlying EPS growth outlook is now broadly similar to that of peers, its earlier reversion to mid-cycle bad debt levels will, in our view, see it experience the bottom end of peer group EPS growth over this period. While this would likely be delivered at a slightly higher than peer average ROTE, we think this is adequately captured by WBC's current PER, which is now at a 4% premium to the sector (on RBS forecasts). We therefore maintain our Hold recommendation on WBC and it remains our #4 pick of the major banks.
Westpac has pretty much underperformed the All Ords since 11/09, although it has recovered in recent omnths to almost be in line. Bit of a dog, in other words. Deutsche also has a hold, with a price target of $23. UBS has the same target price, but has a buy recomendation. Recommendations are all in the eye of the beholder, it seems. The reasons are:
Drivers: (1) Strong Balance Sheet. (2) Lower risk book. (3) Multi-brand upside. Risks: (1) MT growth challenge. (2) Ongoing IT spend. (3) Strategy execution risk.
Westpac has a pretty healthy prospective dividend yield of 7.6%, according to Merrill, which also has a buy:
WBC's 2H11 $3.13bn cash NPAT was low on growth, but a boost to the payout ratio (to 75%) and solid asset quality metrics should continue to support the stock. At 7.6%, WBC's FY12F dividend yield reflects the modest growth in this result. The top-line was again subdued (1% hoh), with less drag from markets than NAB.
Boring, but a nice yield in a very depressed market, in other words. Which does give some protection against capital weakness. Meanwhile, Macquarie has a neutral recommendation on NAB and a price target of $27.29. No enthusiasm there:
Maintain Neutral. Relative to FY11, FY12 will be a harder year for NAB primarily due to funding constraints and rising costs, all which stand to erode underlying momentum.
Deutsche likes ANZ. It has a buy and a target price of $24.75. It likes the credit quality and the capital position of the bank (no mention of the still heavy dependence on offshore raising which may just be affected by what is happening in Europe). Deutsche also likes what is being done with costs at ANZ:
Costs came in lower than our expectation, driven by solid cost control in most divisions. Tight expense management saw costs broadly flat hoh in Australia division. In APEA, employee numbers (including contractors) fell by ~250 from Nov 2010 as projects reached completion. In Institutional, ongoing productivity initiatives kept the cost run rate in the mid-single digits through FY11 and a flatter run rate continued into FY12. Total group expense growth has stepped down progressively over the last 3 halves.
When analysts are not rushing in with buy recommendations for bank stocks that have such high yields one has to wonder. Is it just a reflection of the general gloom, or are there some nasty surprises around the corner?