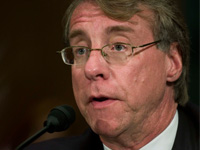 Jim Chanos was among the earliest folks to go short on China real estate developers. Those shares are now being killed.  It is just amazing that there are some people who are still mocking him.
If you really want to mock Jim Chanos, it is the long corruption bit, his long bets on Macau casinos shares, where he is vulnerable.  Not that he was wrong about corruption.  In fact, every human being should be uber-bullish on corruption in China.  Yet if the overall economy isn't doing well, and if the government is going to cut back on investment (which is happening in railroads, for instance), ultimately there will be less money sloshing around for bribing corrupted officials and/or businessmen, and they will have less money left for gambling.
So those shares are being killed as well, and it was a total bloodbath yesterday. SJM Holdings (880.HK) was down 25.5%, MGM China (2282.HK) was down 20.4%, Melco was down 16.1%, Sands China (1928.HK) was down 14.3%, and Wynn Macau (1128.HK) was down 10.9%.
James Packer is not alone.