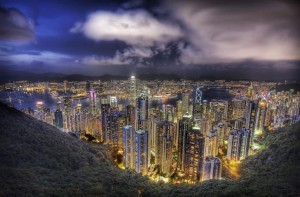 Yesterday, Sun Hung Kai Properties (16.HK) won the tender for the Nam Cheong station residential project for HK$11.8 billion, well below market expectations.  The price paid implies an accommodation value of HK$4,468 per sq. ft., below the market expectation of about HK$5,500 per sq. ft.
The reality about this underwhelming land sale is that the property market has been cooling for quite some time now.  For the past 6 months, the market as been holding up on very thin transaction volume.  Meanwhile, the monetary tightenig has had the unintended but foreseeable outcome of tightening money in Hong Kong.  As a result of that, mortgages are harder to come by, and banks are now fighting for deposits, offering fixed deposit rates that are more attractive than buying a piece of property as a store of value and for rental income (and for that matter, if you have been in cash or fixed deposits since early this year, you are also beating the stock market). The latest news on that front is that Citibank and Bank of Communication (3328.HK) are both withdrawing partially from the Hong Kong mortgage lending market according to Apple Daily, a manifestation of the trend of unintentional monetary tightening.
And now on the policy front, the risks of over doing things appears to be rising.  The latest policy address had no dramatic measures, but the promise to resume HOS is triggering a wave of criticism from the beneficiaries of high property prices, while in reality they have just been wrong about the slowdown in the property market.  Additionally, CY Leung, who allegedly designed the 85,000-policy (which was then blamed for causing property market crash in 1997), has become a frontrunner in the next Chief Executive race, and has been on the bandwagon of demanding more land supply.
With the Chinese economy cooling and with uncertainties escalating offshore, as well as the increasingly tight monetary condition, this isn't unforeseeable that the property market should cool down.  In fact, it's all too predictable.