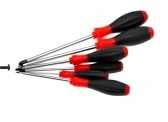 Since late last week, the news from Chinese media has been that China Construction Bank has raised mortgage rates for first-home mortgages in Beijing.  Sina confirms that banks in more cities are now increasing interest rates.  And now Mingpao says banks in 14 cities have raised mortgages rates.
The latest round of increase in interest rates is happening in Beijing, Shanghai, Guangzhou, Hangzhou and others.  While previous increases of mortgage rates have been mostly focusing on second and third home mortgages (i.e. the supposedly speculators), the latest round increases are on first-home mortgages, which means most of these borrowers would be buying a property for the first time.
The increases have been modest.  Interest rates have increased by around 5-10% for these mortgages.  The benchmark 5-year+ lending rate is currently at 7.05% according to the People's Bank of China, thus the rise in mortgages rates would increase rates to about 7.4% to 7.76%.  Although it does not seem to be a lot, the immediate impact is a instant freeze of the property market according to Mingpao.  Property agencies in Shenzhen said transaction on the day immediately after the rates increases have fallen by 90% compared to early this year, and potential buyers are sitting on the sideline.
Thus amid already slowing real estate market and even though the People's Bank of China has been doing nothing for months, the banking system itself is tightening the screw.
Meanwhile, businessmen from Wenzhou who are not escaping or killing themselves are liquidating their properties assets.
This is not something new: I have noted that Wenzhou-ren have been dumping properties before.  Now, however, the selling pressure from Wenzhou-ren is spreading.  Caixin reports that several Wenzhou property investors, who are also business owners themselves, are offering to sell their property holdings in Shanghai and Fuzhou at large discounts.  One entrepreneur, according to the Caixin's story, has put up 7 properties on sale at an average of 10% discount relative to the current market prices, and will use the sales proceed to pay off debt.  They are also selling in Fuzhou according to the report.
This should be an expected consequence of over-levered businesses owners, facing with increasing pressure from slowing businesses and credit tightening.As this drama continues, I will not be surprised to see Wenzhou-ren selling properties in Hong Kong.  I have already flagged the possibility that Chinese buyers will stop buying properties in Hong Kong as China tightens monetary policy.  Now, I think we can expect some selling from the Mainland Chinese.