China's official manufacturing purchasing mangers index (PMI) improved for the second month in September 2011.  The headline PMI rose from 50.9 in August to 51.2 in September, just slightly above market expectation of 51.1.
New orders index increased slightly from 51.1 to 51.3, and output rose from 52.3 to 52.7.  Finished goods inventory increased from 48.9 to 49.9, indicating relatively robust manufacturing activity.
Input price fell from 57.2 to 56.6 after rising in July, indicating that while inflationary pressures are still present, they are relatively stable for now.  Last month I noted that the new export orders index fell to below 50 for the first time since the economic recovery.  For September, however, the new export orders increased from 48.3 to 50.9, which should provide a small relief for the time being: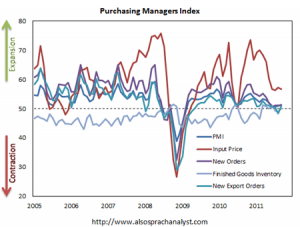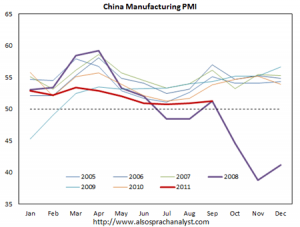 However, there are reasons for ongoing concern. While the manufacturing PMI is still showing very modest pace of expansion, the HSBC's survey has been in sub-50 territory for 3 months, so manufacturing in China is only expanding in a slow pace, if at all.  When if we compare the September PMI this year with the same month of previous years, the slight seasonal rebound of September of this year is much more muted.  It is also worth pointing out that the current September reading is exactly the same as the September 2008 reading.
Furthermore, if you look at the new exports order alone, September is traditionally a strong month probably due to the Christmas orders.  The September reading for this component of the PMI is therefore unimpressive: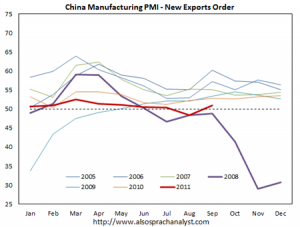 Overall, it is a result which provides a bit of a relief, but I don't want to read too much into one month of data as the economic outlook remains very uncertain.