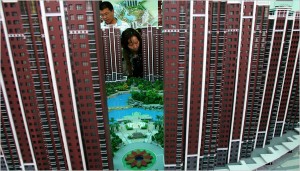 So, as Chinese real estate developers report their 3rd quarter results, we continue to see falling profits.
Xinhua reports that for 47 real estate developers listed on the A share market which have reported their 3rd quarter earnings, revenue for the 3rd quarter amounted to CNY36.476 billion, a 12.5% decline compared to the second quarter.  Net profits was CNY3.745 billion for the 3rd quarter, a whopping 38.5% fall compared to the second quarter.  Of 47 developers, 29 or 62% of them reported falling profits. In particular, Gemdale's 3rd quarter profit fell by 98%, the worst among the big 4 players (other 3 are China Merchants, Poly, and Vanke, which also recorded falling profits).  For the first 3 quarters combined, revenue is still up by 15.2%, and profits are up by 13.5% compared to the same period of last year.
Of course, this is hardly a surprising result given the fall of transaction volume for the best part of the year, followed by falling prices in the recent weeks.  Note that the recent 3rd quarter results are only reflecting the sales being made probably 2 or more quarters ago as most of the properties would be pre-sold prior of actual delivery.  The recent price cuts will only be reflected probably in next years' earnings.
And just as I have been expecting, the real estate prices fall came first from real estate developer's selling as they have been under pressure to clear their inventory amid slowing sales and deteriorating cash flow.  As this continues, we could see the momentum building up, and even discounting bans will not stop the trend of deteriorating market condition.  Rather, weaker real estate developers may be killed off faster as discount bans will make transaction even slower by not allowing developers to sell cheaply.