The National Bureau of Statistics just published the latest set of economic data for third quarter, which sort of disappointed the market.
The third quarter GDP grew by 9.1% in real term compared with the same period a year ago, missing expectation of 9.3%.  On a quarter-on-quarter basis, GDP grew by 2.3% in real terms, slightly faster than the 2.2% qoq growth in second quarter.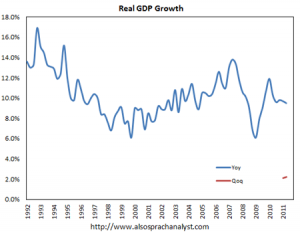 Although GDP was a miss, some components of it are still holding up.  Fixed asset investment year-to-date grew by 24.9% compared to the same period of 2010, slightly above expectations of 24.8%.  While we are seeing growth in real estate investment decline over time, we are still at elevated levels: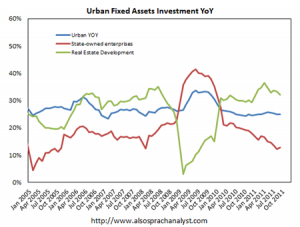 Industrial production for September increased by 13.8% compared to the same period last year, above expectations of 13.4%.  Although not a particularly good level compared to the past, it is still holding up: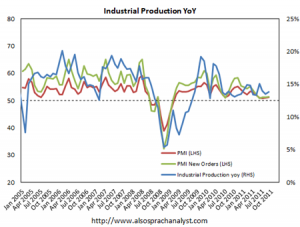 Retail Sales for September increased by 17.7% compared to the same period of last year, also better than the expectations of 17.0%: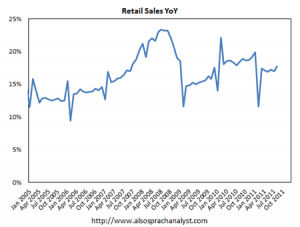 I do want to point out that a closer look at the latest trade figures reveals that the trade surplus actually declined in third quarter compared to a year ago.  That could be something which contributes to the apparent disappointment in GDP growth.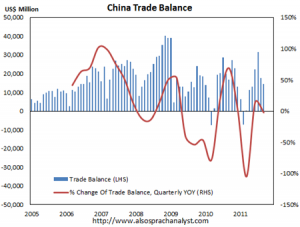 Despite missing expectations for the headline growth figure, parts of the economy are holding up better than expected.
It is not a welcome sign to see fixed asset investment to be holding up as we actually want to see that coming down more as a part of rebalancing, but retail sales and industrial production are better then expected, thus there are things to be cheerful about in this data.
The tricky part is that inflation remains at an elevated level, and the economy is probably not slowing enough yet, so that policymakers may not be able to ease monetary policy for the time being except for some selective easing towards small businesses (which may not be terribly effective).