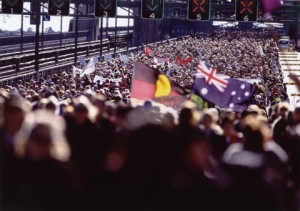 Oliver Hartwich, from the oddly named Centre for Independent Studies, has penned an enthusistic treatise in support of a "Big Australia".  More on Hartwich's article later. First, a brief background (previous posts, here and here, cover various other aspects of the population debate).
The population debate in Australia is certainly not new, although credit goes to Dick Smith for bringing public awareness to an otherwise one-sided debate over the past couple of years. In 1994 the Commonwealth commissioned an inquiry (the Jones inquiry) into Australia's population and carrying capacity, yet the inquiry failed to make firm recommendations. One of the inquiry's authors then wrote a book in protest of the 'government's timidity' and concluded that a sensible population policy for Australia would be to aim at stabilising the population within a generation or so and that this was quite feasible if net immigration of something below about 50 000 a year (say 100 000 migrants in gross terms) could be maintained. Population would then more-or-less stabilise somewhere between 19 and 23 million (depending on actual immigration) sometime before 2050.
More recently, Tony Burke became Australia's first Minister for Population (actually, Minister for Sustainability, Environment, Water, Population and Communities). Clearly, the issue is of some social importance.
Let's move on to Hartwich's article.  You will have to accept my apologies for taking the easy way and fisking my critique.
Economist Dr Oliver Marc Hartwich is an advocate of a 'big Australia'. Here are five reasons why he thinks the nation has nothing to fear from a growing population.

1. Australia is growing whether we like it or not

There are three factors that determine the size of our future population:
– How long Australians are going to live.
– How many children we will have.
– How many people move to and leave Australia.

Government cannot do much about much about an improving life expectancy – nor should it. Government cannot determine how many children we will have, either. And again it's not the government's business anyway.

This leaves migration as the only lever for population policy. However, it is difficult to fine-tune our net migration intake, nor would it be desirable to reduce migration at a time of near full employment and reported skills shortages.

Even if we cut migration by half we would still see Australia grow to almost 30 million by 2050. This is to say we better get used to the idea of a growing Australia. It is going to happen anyway.
Those three factors of course determine population growth rates.   But I strongly disagree that there is little government can do about improving life expectancy.  In fact, I would argue that many government initiatives have that exact goal in mind – from vaccinations, to safety regulations, to public hospitals provision.
I also strongly disagree that government cannot determine how many children we have.  Academics jumped at the chance to observe the baby bonus on reproductive decisions and found that it did have significant impact at both bringing forward reproductive decisions, and increasing fertility. Also, various policies promoting fertility have been in effect in many countries throughout the past half century with varying degrees of success.
I also disagree that it is difficult to fine-tune the immigration intake.  Nothing could be simpler.  Recent migration trends also suggest that immigration rates are falling.  In any case, I hope Hartwich maintains his 'difficult to fine-tune' stance on immigration if Australia one day faces a flat or declining population.
2. Australia has a good track-record of dealing with migration

No other country in the world has managed to integrate its migrants so well as Australia. Australia's migrant community is, on average, less often unemployed or on benefits than the Australia-born population.

Migrants' children do well in school tests, and migrants are not more criminal than the rest of us.

Australia is one of the most attractive destinations for potential migrants and through the points system in immigration we can continue to attract migrants who will bring the skills and qualifications that this country needs.
I'm not sure what the point of this argument is.  Migrants do better than locals?  So we should have more so that locals have even more competition for university places?
I agree that most migrants bring a culture of hard work with them.
3. It's easier to grow than to shrink

Most European countries would love to swap their demographic problems for ours. Many European societies are ageing and shrinking. By the middle of the century there will only be two working-age Europeans left to care for each European pensioner.

Thanks to Australia's strong population growth this so-called dependency ratio will remain much lower in Australia for a long time. The result is less pressure on social and health services and a stronger fiscal position. Australia can use this chance to prepare its social security systems for the long-term prospect of an aged population.
This I find odd, since Hartwich's home country, Germany, is the superstar of European economic performance with a population stagnant since the mid-1990s and declining since 2003.  We also know that his claims about the dependency ratio are bunkum, as the Productivity Commission explained:
In sum, realistic changes in migration levels are unlikely to make a substantial difference to the age structure of Australia's population in the future, and any effects are likely to be temporary. Realistic changes to fertility could have some effect in the long term, but the proportion of older Australians will still grow from current levels. Increased longevity (a desirable trend!) is the dominant force
Traditionally a population decline was the result of war or famine, but, as suggested here, that doesn't mean population decline should always be in the disaster basket:
But if the causes are benign, what about the consequences? If the decline in the number of people is slower than the natural growth in productivity (or output per person), then the economy will still grow. For example, a modest population decline of 0.25% a year would reduce Britain's economic growth rate of 2.25% to just 2% a year. That's hardly a recession. The number of consumers may decline, but the growth in incomes-and export markets-will ensure that demand stays buoyant. Nor will there be a demographic crisis, with huge numbers of old people overburdening those of working age. Population decline also leaves fewer children to support, train and educate for the first 20 economically unproductive years of their lives. The dependency ratio of workers to non-workers is virtually unaffected whether the population is growing 0.255 a year or falling 0.25%. Adjustments to an ageing society-discouraging early retirement, moving from pay-as-you-go to funded pensions-will be necessary in any case.
Moving along:
4. Population growth will benefit the economy

Australia's growing population will benefit the economy as consumers, savers, entrepreneurs, and workers.

More people will make it possible to increase the division of labour.

It will open up new opportunities for niche products and services, which otherwise could not be offered.

It will also make it possible to provide better mass transit infrastructure for which we currently lack the capacity.
Again, clutching at straws here.  I am not sure why domestic population is needed when labour specialisation occurs globally.   Perhaps to a very minor degree there might be some improvement in the degree of specialisation from having a workforce of 15million instead of 12million. Perhaps.
While I agree that our small market is occasionally a barrier to new products finding their way here quickly, internet shopping is quickly closing any gaps.
Mass transit sounds great, but not requiring it is also good.  There are plenty of 'intermediate' scale urban transport options Australia cities could adopt if the political will existed.
5. Australia is in the most dynamic world region of the 21st century

The 'tyranny of distance' is giving way to an 'opportunity of proximity'. The fastest growing region of the world is Asia, in which there are hundreds of millions, or rather billions, of people who have escaped poverty and joined the global middle class.

What is happening in front of our eyes and not far from our borders is one of the greatest economic transformations that the world has ever seen.

Australia has the chance to be part of this growing Asia Pacific region. But we are not going to achieve this by sticking our heads in the sand, yearning to halt or reverse these changes.

Population growth is going to happen, and it will ensure that Australia can fully play its role in the region.
I have no idea why this is relevant to Australia's population.  The population of Asia as a whole is estimated at nearly 4 billion.  If Australia's population went from 22 million to, say, 40million, exactly how does that ensure we can fully play our role?
A stable population is by far the preferred outcome in economic terms, with either a low rate of growth or decline.  Very high rates of population growth around 2%, as we witnessed in 2008 to 2010, are not conducive to productivity growth and long run prosperity in the modern world.
Tips, suggestions, comments and requests to [email protected] + follow me on Twitter@rumplestatskin
Latest posts by Rumplestatskin
(see all)