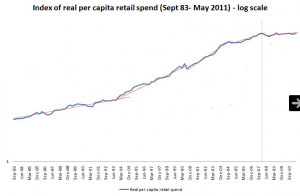 The great Australian retail adjustment is happening now at a store near you.
Myer Managing Director Bernie Brookes recently announced the retailer's plans for more serious efforts in online retailing, with $9million set aside to improve Myer's online presence.
Target yesterday sent a letter to suppliers explaining why they are going to pay 5% less for all their goods from now on – take it or leave it (ht: Adrian).
Mark McInnes, head of Premier Investments, the owner of Dotti, Just Jeans, Portmans and Jay Jays outlets, has closed 19 stores and threatens to close more if he cannot bargain down the rents paid by his remaining stores.
Masters, the hardware joint venture between Woolworths and Lowe's Companies Inc, opened its first stores early this month to compete with Bunnings in the hardware and homewares market.
Dick Smith has also had his say about the supermarket discounting wars and executive pay.
Not only are the retailers making some tough decisions, but shopping centre owner Stockland, whose CEO Matthew back in February noted the sunny outlook for their three Rs strategy – residential, retail and retirement – is finally coming to grips with reality and is rushing to offload a selection of retail property holdings.
The new and surviving businesses in the great retail adjustment will be far more innovative, and offer far better consumer value than the current crop.  This process of creative destruction is necessary to cleanse the system of outdated practices which no longer deliver consumer value.  For those who have witnessed the efficiency of retail practices abroad, it is clear that Australia has some catching up to do.
But the adjustment won't be pretty for some.
One unfortunate part of the great adjustment is the likely fall-out on employment in the sector.  The retail sector employs one in eight people in the labour force, and is heavily dependent on casual employees, making it a likely source of unemployment as economic unease continues.  These shop assistants won't be immediately snapped up by the mining, gas, and engineering investment boom.  I also expect a significant scale back on the uptake of 'Christmas casuals'.
There are a few scenarios I think might play out during this retail adjustment.
First, a new click-n-brick department store retailer will enter the Australian market, while some of the incumbents will adopt this model (as Myer seems to be considering).  Like Apples famous stores, the physical shops will serve necessary customer interaction roles – pick up and testing of goods, trying on clothes and shoes, handling refunds and exchanges.  There will be fewer of these stores, they will require much less floor space and they will require just a few expert staff.  Transactions will mostly take place online, with either store pick up or home delivery options.
Second, many large department store and supermarket retailers will find a more efficient use of floor space.  Supermarkets might take a few hints from ALDI, or take the alternative path of a combined warehousing and retailing model, much like Costco or Ikea.
Third, online food and grocery delivery will find a leader.  The home delivered food and grocery market is very fragmented and localised, with fresh produce boxes, and local milk and dairy, businesses demonstrating that demand for this service is strong.  Supermarkets are testing the water with home delivery, but I expect one leader to emerge with model that really masters the home delivery niche.
With a fear of debt continuing to restrain household spending, competitive pressures in retail will continue for some time.  While I have no idea which companies will mostly nimbly negotiate the challenges presented in this period, I am certain that Australian consumers will be better off.  Unfortunately, the cost of this great adjustment will fall on those employed in retail with limited options for employment in other areas.
Tips, suggestions, comments and requests to [email protected] + follow me on Twitter @rumplestatskin
Latest posts by Rumplestatskin
(see all)