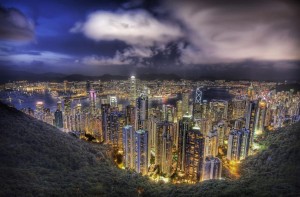 The Hong Kong government just sold three pieces of land.  The FT reports that the result is quite bearish. The results were actually fairly mixed.
The first site being sold was Tseung Kwan O area 66A, which can provide 792,898 sq. ft. of residential space.  The pace of the auction was extremely slow, and the government threatened to withdraw the lot at one point.  The opening bid was HK$2.85 billion, and Sun Hung Kai Properties (16.HK) got the site for HK$3.12 billion, implying an AV of HK$3,935 per square foot, slightly below the lower bound of market expectation (i.e. HK$3.2 billion). Some believe that the lack of interest and subsequently a below expectation price are largely due to the fact that the government set the number of units that can be built.  However, this was known before the auction, thus the market expectation will have discounted this piece of information.
The second site was a small one in Sai Kung, which can provide 12,107 sq. ft.  This and the third site in Yuen Long, which can provide 120,471 sq. ft. of residential space, attracted much more interests, presumably because they are smaller, allowing smaller players to participate.  The Sai Kung site was sold at HK$121.5 million, implying an AV of HK$10,035 per square foot, within expectations.  While the Yuen Long site was sold at HK$361 million to Paliburg and Regal Hotel, implying an AV of HK$2,996 per square foot, also within expectations.
So we have two smaller sites being sold at prices within expectations, while the larger site slightly below expectation.  On the whole, this latest land auction is neutral.  It is neither morale boosting, nor a confidence killing.  This oddly reminds me of an auction earlier this year when Cheung Kong (1.HK) bought two sites in a day.  On that day, the focus was in the expensive Borrett Road site, which the market hoped would break the all-time record, but received little interest.  On the other hand, the Yuen Long site attracted much more interest on the day.
At the end of the day, this set of result will be inconsequential for the property market.  I see no reason to change my bearish view, with all of the uncertainties we are seeing in the global macro picture.  The general view here is that the property market for 2011 will be stable, with the base case of 0-10% price growth for the entire year, with a higher probability of leaning towards the lower bound of the range.