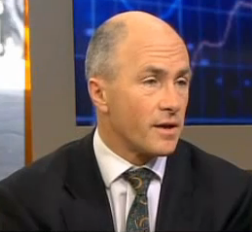 Look, I know the Unconventional Economist has already covered Mr Dent's visit to Australia and I have to agree with everything he said in that regard. But I feel the need to bring our reader's attention to the hilarious debacle that was the "expert" Australian response to Mr Dent's accusations as presented by Koshie on Sunrise yesterday morning.
Craig James's "expert" response: Australia's population is growing, and we don't have huge tracks of land that are empty, and we don't have empty houses and therefore an oversuply problem. It's always about demand and supply.
Mark Bouris's "expert" response: The next 6-12 months is a good time to buy, if Dent is right then it is a good time to buy, affordability is what keeps house prices where they should be, what is making house prices tough at the moment is the high interest rate environment, when interest rate fall house prices will be affordable again and it is a good time to buy because house price will maintain a "stable structure"
Ingrid Just's ( from Choice ) "expert" response: Householders and home owners aren't spending becuase of this sort of talk. Mums and dads are listening to this and that is why they are saving. Retailers are saying that no one is buying and it is because of conversations like this one.
Pascoe's "expert" response: He is out here selling a book, no one is going to buy it if he claims says Australia is fine. Steve Keen at the start of the GFC said housing would fall by 40%. He was wrong. During the last recession we had 20 years ago house, when we had double digit unemployment and massive unemployment, housing held its value.
Pascoe was correct, Dent is selling his book. But if this is seriously the best expert economic commentary that Channel 7 can muster in response to claims that demographics and credit dynamics are about to place significant downward pressure on house prices then surely we are all doomed. None of these responses even passed the most basic of logic tests, and I am not even sure that Mark Bouris was speaking English.
Pascoe's comment that Dent was simply talking his book were made even more amusing when Mark Bouris later turned up on Lateline batting for the opposition:
You couldn't make this stuff up.