In this weeks second equities spotlight (what a bonanza!), we take a look at online travel company Webjet (WEB).
The Business
According to the FY11 annual report, Webjet is an:
..an electronic manager, marketer and credit card merchant of travel and related services utilising the internet and other mediums.
Webjet started out as a website-based service that allowed users to compare the ticket prices of several different airlines and then book them via their website.  After enduring a few years of losses following the September-11 and Bali Bombing attacks, Webjet has moved from strength to strength as people increasing use the internet to book flights and arrange travel plans.
Webjet have expanded their service range over the years to include accommodation booking, car hire, travel insurance, foreign exchange services, Planitonearth (a free online trip planning and budgeting tool) and travel guide services.
The Financials
Webjet books are in very good shape.  Return on equity (ROE) over the last 5 years has averaged 28%, whilst equity per share has increased from $0.30 to $0.53.  Webjet is totally debt free.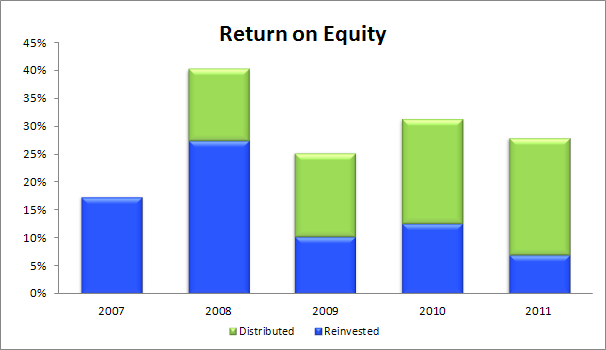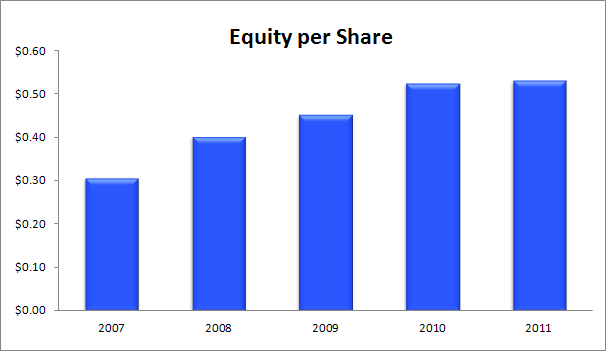 Surprisingly for a web-based business, Webjet has low intangible assets; $0.10 per share compared to net tangible assets of $0.43.  Earnings per share are a healthy $0.14 and cashflow over the last few years has been good, with cash levels almost doubling in both 2010 and 2011.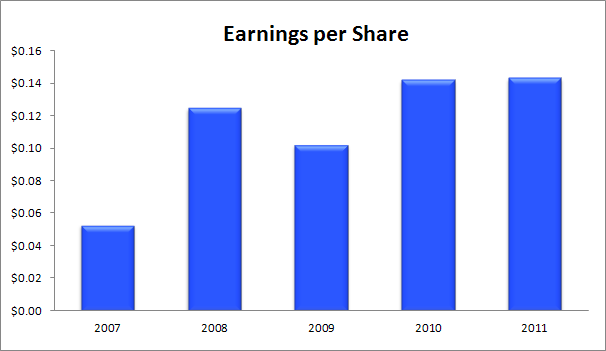 The current dividend yield is 5.5% – not too shabby.
Webjet derived 94% of its revenue from Australian and New Zealand customers in FY11, with the remainder coming from website set up for the US, Asian and European regions.  International revenues grew strongly in 2011, moving from $0.17m to $2.7m.
Management
WEB's senior management has a mix of backgrounds, with a core group of directors and managers having been with the company for several years.  In the early 2000's this group pursued the development of an integrated booking platform to streamline its website activities  Since then they have expanded Webjets services into complimentary fields that can be managed via their existing website.  Webjet's ROE over the last several years attests to the success of these decisions and management's ability to provide good returns on investor capital.
Internal ownership is substantial, with over 12% of outstanding shares owned by the directors and senior managers alone.  Bonuses are typically 20% or less of total remuneration across the management group.
Risks
Stiff competition in online accommodation service with the likes of Wotif (WTF) and lastminute.com

Competition from existing brand-name competitors like Flight Centre (FLT), who are also developing their online accommodation presence

Reliance on indebted Australian and new Zealand consumers for the vast majority of revenue

Sensitivity to the AUD, as a lower dollar will discourage Australian's from holidaying overseas
Opportunities
One of the few companies in Australia that is currently benefitting from the high AUD, as Aussies head overseas for their holidays to take advantage of increased purchasing power

The web-based business model is unencumbered by physical store fronts like its rival Flight Centre, making Webjet suited to the on-line shift for flight and accommodation bookings

Good brand name recognition within Australia

An easily-scalable business for overseas operations
Summary
Webjet is a great business with good brand name recognition in Australia and a business model suited for the online future.  Their financials look great, with a stable ROE of approximately 20-25% and a robust balance sheet that has no debt.  Management have successfully grown the Webjet business by increasing the services it offers and maintaining a low cost structure.
Unfortunately Webjet has no durable competitive advantage and is sensitive to movements in the AUD.  Further, the online world has low barriers to entry and consumers can be fickle.  In addition, Webjet must also compete with established travel groups like Flight Centre and dedicated booking agents like Wotif.  As such, Empire Investing considers Webjet a Good Company with no competitive advantage – one we'd like to own, but only at a big discount to compensate.
Valuation
Assuming an average normalised ROE (inc franking credits) of 33% over the next 5 years, an equity per share base of $0.53, 18% of net profit is reinvested and using a 15% required return, we value Webjet at $1.67.
Using a discount of 40% to value, we think Webjet would be very good buying at $1.20 or below – the current share price of $1.97 is a little rich for our blood.  Further, if the AUD we're to drop substantially in the near future, we'd be increasing our discount to value (or revising our valuation based on lower earnings forecasts).
Disclosure: The author is a Director of a private investment company (Empire Investing Pty Ltd), which has no current interest in the business mentioned in this article.  The article is not to be taken as investment advice and the views expressed are opinions only.  Readers should seek advice from someone who claims to be qualified before considering allocating capital in any investment.