See the latest Australian dollar analysis here:
The Australian dollar fell precipitously overnight and as I sat down earlier this morning it was actually trading under 0.9700. Remembering that earlier this week the AUD was above 1.03.
This is not unexpected to our readers and while I don't want to turn this into a trading blog it is worth having a look at the price action to see what is ahead for the AUD: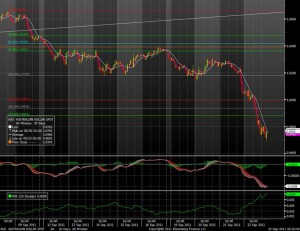 As you can see in the hourly chart above, the AUD's move down to the 0.9994 region we had saw it find some support. But once this broke it made a swift run down and through the 0.9900/50 region we also identified as support, but it kept accelerating to the downside. The red bars show just how relentless this fall was overnight before it found some support in both a slight reversal in equities. But equally, I would guess, given the speed of the fall, the AUD probably got some help from our friends at Martin Place.
The question for traders and investors is where will the AUD's fall stop?
The lesson of 2007 and then again in 2008 is that the AUD's life is not its own and if markets continue to fall so will the AUD. Indeed the AUD has broken the uptrend from the low at 0.8083 in 2010 and the start of this bullmarket back in 2009 [ EDIT: I just noticed I wasn't clear and have adjusted this to reflect that the trendline break was a 2 year break not a 1 year break] and a break of 0.9700/10 which is the March low from this year from where the AUD kicked higher to the 1.10 region would confirm a double top at 1.1000 and open the way much lower – probably 0.8765.
But there is a lot of wood to chop first and last night's low at 0.9693 bounced hard so we'd say this level held on the dailies. There is also a support line at 0.9660ish which you can see in the chart below. This is one of my favourite things to do – that is, take an old top and run it through a subsequent bottom and then leave that line there as potential support. It's one of my favourite things to do after Fibonacci extensions: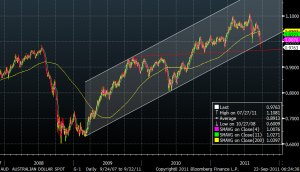 So from a technical point of view I would say if AUD falls through the 0.9650/0.9710 support zone it is a shot duck.
But it's not alone – this is finally a real risk off event – as you can see in the chart below. Any notions of safe haven, constantly repeated by part time FX commentators can now be put to bed once and for all: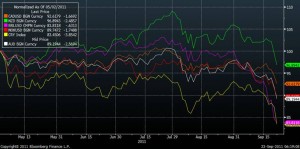 Fundamentally nothing much has changed from the weekly two weeks ago – other than that the key drivers are getting worse.
Please remember these are not recommendations for you to trade these are my views and I have my risk management tools and risk parameters that you do not have access to. Thus, this blog is for information only and does not constitute advice. Neither Greg McKenna nor Lighthouse Securities has taken your personal circumstances, objectives or financial situation into account. Because of this you should, before acting on this information, consider its appropriateness, having regard to your objectives, financial situation or needs.