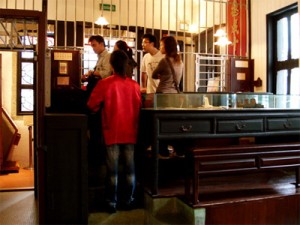 As the People's Bank of China tightens monetary policy, small and medium sized businesses are having a hard time borrowing from the formal banking system.  As a result, many turn to the underground banking system which basically consists of loan sharks and pawnshops.
Last week, I posted on the early phases of run on property assets in Wenzou. Now, a new Caijing report suggests that underground credit in Wenzhou is booming.  According to the Wenzhou branch of the PBOC, the underground credit market has reached RMB 110 billion, and the interest rates have are around 24.4% per annum, which is around 2% per month (note that we have some more horrendous rates earlier, but perhaps those were more of isolated instances rather than the overall picture).  The report also suggests that 90% of households as well as 60% of companies are involved in the market.  Among RMB110 billion of credit, 35% is used as working capital for companies and 20% is used in real estate investment and/or speculation.
Undoubtedly, monetary tightening and particularly credit tightening of the formal banking system, has pushed companies and others to obtain credit through underground channels with sky-high interest rates.  There is very little wonder that people in Wenzhou are scrambling to sell properties as credit is harder to get, or the interest rates are sky-high if you can get it.  I have no idea whether this is an isolated case in Wenzhou, or it is common for other cities, but it is clear that monetary tightening has been hurting some businesses, and the underground banking system may pose another hidden risks to the financial system and the wider economy.