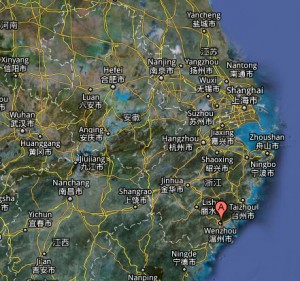 Wenzhou is a city famous for producing lighters.  It also produces many real estate speculators who have been buying properties everywhere from their home town to Hong Kong, and probably as far as Dubai.  Now in their home town, however, they are scrambling to sell their real estate holdings.
NBD reports that the rush to sell started probably two weeks ago.  The selling pressures started with two groups: cash-strapped speculators, and cash-strapped business owners
One speculator was a shoemaker.  He borrowed money from a bank for his business, but much of the money ended up going to the real estate market.  As the real estate market cools amid increasingly aggressive curbing measures and monetary tightening, he had to borrow money from non-bank institutions (that basically includes loan sharks, pawnshops and others) at very high interest rates.  Finally, he decided to sell his property and cut prices.  Even after price-cutting, however, most buyers were not serious.
Many business owners are also selling properties to save their own businesses as bank credit is very tight, and non-bank credit has a very high cost, so selling properties is a better choice.  One real estate broker said that a business owner is selling a RMB80 million townhouse, and 2 days ago the owner of this house told the broker that because his company needs cash urgently, and as bank loans have not been approved, he was willing to cut the price by RMB5 million.
The selling pressure seems to be generating panic, especially for those who are waiting to sell as buyers do not seem to be very interested.  That's not surprising, after rounds and rounds and price curbing, purchase restriction, and monetary tightening, it is much harder for speculators to own multiple properties, and mortgages are harder to get.  Thus there is little wonder that sellers are so desperate to find willing buyers.
There's no saying that Wenzhou is representative of things happening in broader China, but it is discouraging for the outlook of Chinese real estate.