As H&H said earlier today, the 5609 dataset from the ABS has been updated for June. We actually need to wait until tomorrow to get the whole story on housing credit because the 5609 dataset has a sister dataset 5671 which contains the investor data.
In the meantime here are some drill-downs on the owner occupier data.
Firstly total owner occupier finance by state, which does not include refinancing. Notice the medium term trends for all states are holding.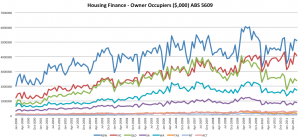 Construction of new dwelling by state, which clearly shows Victoria building boom continues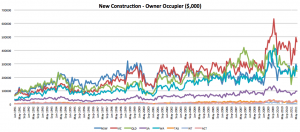 Purchase of new dwellings.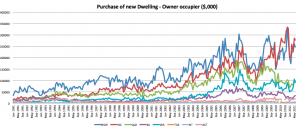 Purchase of existing dwellings.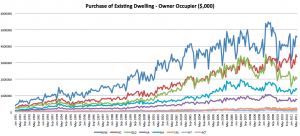 And finally re-financing.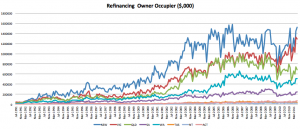 So it appears that owner occupier finance towards new dwellings is up in NSW and Victoria, while credit towards existing housing is relatively flat or falling across all states. Queensland continues to look atrocious and once again takes the wooden spoon. I am hoping to see a new "stock on market" report from SQM shortly which should help in determining how this latest data will translate into price movements.