It will come as no surprise to regular MB readers that Australian house prices continued to slide in July, according to the latest RP Data-Rismark house price index.
On a seasonally adjusted basis prices fell 0.6% in July while the 0.2% June decline was revised lower to show a fall of 0.4%: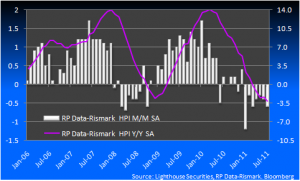 The raw figures showed a drop of 0.9% over the month with May's drop of 0.6% revised to show a fall of 0.8%: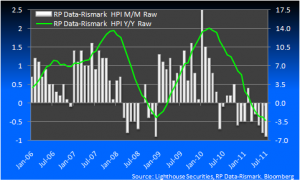 On an annual basis prices are down 3.2% seasonally adjusted while the raw figures show a drop of 3.4% with the drop from their respective peaks now 3.7% and 4.2% respectively. In real terms, however, prices are now down 6.2% on a seasonally adjusted basis while they are down 6.4% in raw terms: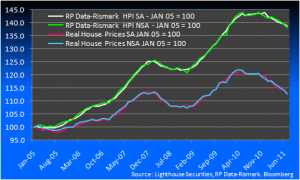 By state, the break up is fascinating. Sydney is holding up but Melbourne looks on the way to joining Brisbane and Perth in a serious correction. First, seasonally adjusted.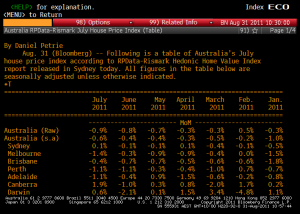 And raw: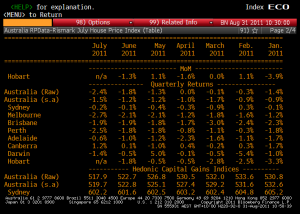 The longstanding relationship between house prices and monthly housing finance suggest we can expected falling prices for some time to come: