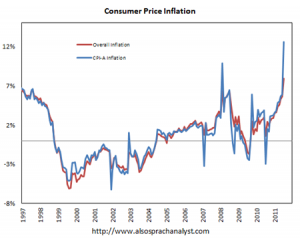 Similar to our neighbour, China, the inflation picture in Hong Kong is not looking pretty at the moment, which is not very surprising given that inflation in China has is somewhat out of control as well.
One thing I do want to note here, however, is that there was a slight price drop of the headline CPI on a month-on-month basis by 0.2%, and even CPI(A) fell by 0.6% on a month-on-month basis.  This is rather surprising, though it is not very clear whether this due to seasonality or any real effect.  What we can be sure of, however, is that in July 2010, we saw a 2.3% drop in headline CPI on a month-on-month basis, confirming the official explanation that the headline figure of 7.9% is more about a reflection of a low base effect in 2010, presumably due to one-off relief measures.  I don't want to read too much into one data point, but this is something of particular interest.
Because of the close link between China and Hong Kong (in terms of inflatio), despite the fact that I am no longer expecting Chinese inflation to fall below 4%, I believe that there is a high probability that inflation in China will be lower in the remaining part of this year, and hence inflationary pressure of Hong Kong will ease, all else being equal.  That said, there is a non-negligible probability that Hong Kong may slip into a recession because of the potential double dip recession in the US and Europe, as well as a more significant slowdown or hard-landing in China. I also see a non-negligible probability that inflation in Hong Kong will go much lower (or even negative) in the final quarter of 2011 or beginning of next year.  The upside risk for inflation, assuming that the economy does not slow, will depend on whether the People's Bank of China gives up inflation fighting by easing monetary policy, and somewhat less importantly, what the Federal Reserve may do to support the US economy.