In their latest monthly report this is what Herron Todd White had this to say about Western Australian housing:
Perth

Western Australia's mining industry continues to be a symbol of Australia's growing economic prominence on the global stage. The vast riches on offer have resulted in rapid population growth leaving the housing market in an apparent undersupply. In theory, this should result in upward pressures on property values as demand outstrips supply.

RP Data however named Perth as the worst performing capital city during the May Quarter with values depreciating 4.2% in seasonally adjusted figures. A catalyst of the nation's economy yet statistically a victim of soft investor confidence providing the very market contrasts we're trying to dissect this month.

City Beach for example is a suburb that reflects the downward trend that make up the statistic. The prestige Perth coastal suburb recorded a fall in median prices of 9.7% during the months of March to May 2011. This lack of demand for higher end properties has subsequently seen a steady increase in stock and average selling days.

This downward trend however is not limited to the top end of the market with the suburb of Beeliar located south east of the Perth CBD recording a decline of 9.5% over the same period.

….

South Western WA

According to REIWA statistics the Shire of Busselton has recorded a median house price of $420,000 in the March 2011 quarter, a fall of 9.2% from the previous year. The fall of 9.2% is a reflection of how much the median house price has decreased over all segments of the market place. Some sectors of the market place have been hit harder then others and therefore this quote of 9.2% can be quite misleading without analysing each sector on its own merits.
We also have RPData's house price chart for Perth looking like this: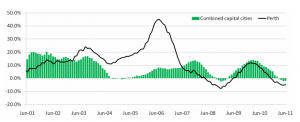 The latest housing finance data shows that Western Australian credit demand remains subdued within a falling trend: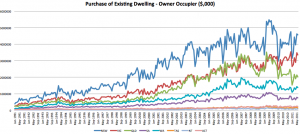 And the latest SoMP shows a clear breakout in Western Australian based mortgage arrears: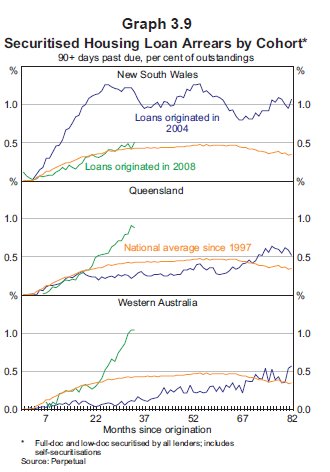 So under these circumstances, and given the fact that both the RBA and APRA constantly tell us about our world class lending standards and prudent banks, you would think that lending institutions would be tightening up their criteria for loans issued against Western Australian real estate. But hey, when you have the tax payer at your back what's prudence anyway:
First homebuyers will be able to borrow 97 per cent of a loan under a new Bankwest mortgage product.

Bankwest managing director Jon Sutton announced the $500m loan strategy this morning, which will be available to 1300-1500 WA borrowers.

The loan undercuts the traditional 20 per cent deposit rate normally required of first homebuyers. The bank claimed it would cut the deposit saving time for first homebuyers from four years to six months.

Mr Sutton denied that it was irresponsible to lend first homebuyers such a large proportion of the value of a property, claiming the bank had put in place strict lending criteria that would ensure payments were sustainable. The criteria included a minimum annual income threshold of $80,000 for the borrower or at least one person in a borrowing couple.

Housing Minister Troy Buswell backed the product as a "new weapon in the housing affordability battle".

Mr Buswell said the State Government's Keystart program, which required a four per cent deposit, had a relatively small default rate compared to traditional products. He said low deposit loans from the private sector were more effective in helping first homebuyers into the market than a government grant.

The Satterley property group used this morning's launch to announce a further 17 builders had joined its so-called Building Blocks program. The stable of 30 builders in the program offer bonuses worth an average of $6000 on each product and a land rebate of up to $10,000.

Company managing director Nigel Satterley also reiterated the recent release of a range of land deals aimed at first homebuyers, including a 150 square metre block with a five-metre frontage.

The house and land packages start at $200,000 for a one bedroom (strata), $268,000 for two bedroom and $298,000 for a three bedroom in the suburbs of Ellenbrook and Brighton.

"It's a buyers' market," Mr Satterley said.
Looks like that letter from APRA had the desired effect for 2 weeks.