Today's trade figures from the ABS provide some positivity after what has been a run of unequivocally weak local data of late. While the trade balance narrowed from a revised $2.7bln in May to $2.05bln in June the composition of the numbers was more positive. Imports rose 2.6% over the month courtesy of a 7.3% increase in capital goods imports and a 3.6% increase in intermediate and other merchandise but exports were only down 0.1% after exports of non monetary gold dropped 55.2% in June, after jumping 49.3% the previous month. Of the other export categories, rural goods rose 3.1% and non-rural goods rose 4.3% while the service exports were little changed: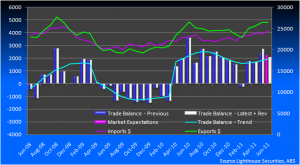 Breaking down non-rural exports a little further we can see that exports of metals, ores and minerals rose to a record high while exports of coal, coke and briquettes rebounded which was evident in the export throughput from the Gladstone port over the month: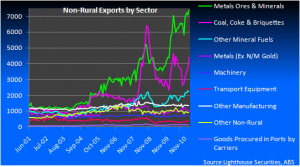 Something to note, however, is the latest data shows exports from the Gladstone port are down over 12% in July from June: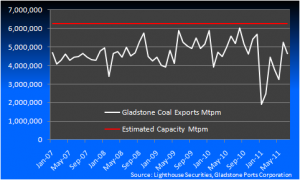 All in all though it is some rather more positive news compared to the run of weak data we are becoming accustomed to.