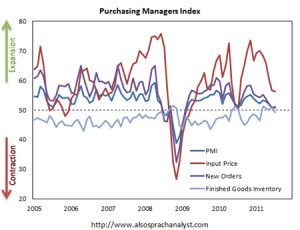 Source: China Federation of Logistics & Purchasing
These data points paint a more optimistic picture of Chinese manufacturing in July.  Although slowing down, the pace has moderated.  Input prices continue to fall, although at a slower pace as well, and the trend of inventory build-up has reversed from June.  Of course, despite a better than expected reading, the current data is the weakest July since 2008.
Before getting too happy, however, the HSBC China manufacturing PMI headline number is just out, and it is 49.3, which is not only showing continued slowdown, but actual contraction.  Thus, only one thing that is certain is that manufacturing is slowing down, but by how much and how quickly we remain unsure.