Yesterday, the National Bureau of Statistics published the latest set of widely followed but wildly unreliable home prices indices for the 70 cities.
For newly constructed homes, prices fell in 14 cities on a month-on-month basis (vs. 12 cities in June), while 17 cities recorded flat prices )vs. 14 cities in June).    On a year-on-year basis, however, there is only 1 city where prices fell (vs. 3 in June), while prices increases slowed in 26 cities.
For the secondary market, prices fell in 22 cities compared to the previous months (vs. 22 cities in June), and prices in 12 cities were flat (vs. 12 in June).  On an year-on-year basis, prices fell in 4 cities (vs. 5 in June), and prices increases in 28 cities have slowed.
The latest data shows that the property prices are still stubbornly high even though prices growth has been moderating, and transaction volume has stayed low, probably across the country.  That reflects the impact of rounds and rounds of price curbs, and more importantly, monetary tightening.  This data, together with the inflation numbers, suggest that there is absolutely no reason why monetary tightening should end.  So far, we have seen low transaction volume as well as some selling pressure in a few cities, like Wenzhou.  As long as the stance of monetary tightening continues, more meaningful corrections will be seen. It's just as a matter time.
New homes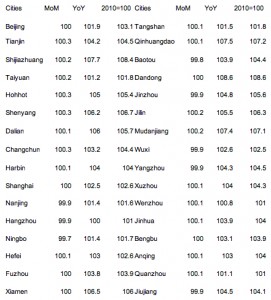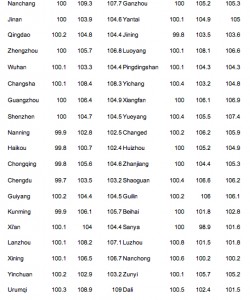 Existing homes