See the latest Australian dollar analysis here: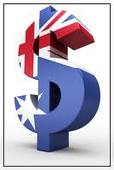 A big week for the AUD as risk finally went off and the AUD tumbled 600 points from the high of the week to finish at 1.0442 in New York this morning. Anyone who talks of safe haven buying now should have to pay these 600 points to charity. On a million dollar AUD position that 600 points represents a loss of around $50,000 – and no one trades in millions. The positions are much bigger than that.
Just to be clear the AUD still held the really important 1.0390 support we talked about yesterday on a daily close basis. Intraday traders might have sold the break overnight but they would have been flipped out pretty quick as it was a volatile night. So it hasn't wiped itself out yet but there is a difference between safe-haven and rerated that is really important.
That distinction is that re-rated implies a little bit more positive sentiment when things go bad so traders and investors don't bail out quite so quickly but they still bail out. it also implies that this more positive sentiment means they might come back a bit sooner, thus bringing up the bottom from the 60's to the 80's next time it crashes.
Safe haven on the other hand implies that when things go awry in markets and in economies an asset appreciates. That is what safe-haven or safe harbour is – its all about protection. On the safe haven hypothesis the AUD should have rallied this week not sold off 600 points.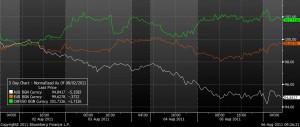 The chart above is of the AUD/USD, EUR/USD and CHF/USD (I've inverted it so I can get the same normalisation). They are indexed to 100 as at earlier this week and it is a 30 minute chart. Note the performance of the latest addition to the ranks of the safe-haven club which is the AUD and the white line – down all week.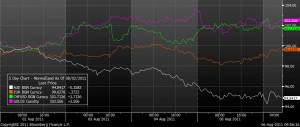 In the chart above I have added gold, in USD per ounce, and you can see that it and the Swiss Franc, green line, did their job in this week's crisis – they protected your capital. they were a safe haven.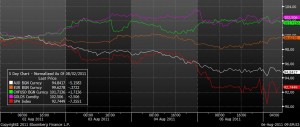 Now, in this final chart I've added the red line which is thhe S&P 500 futures. Note how well our newest member of the safe haven club matches this global bellwether of risk.
As I'm writing there is news and debate coming out of the US that S&P has told the White House they are going to downgrade the US from AAA to AA+. This news hit in late trade this morning and even though the White House is apparently pushing back, it seems that we'll get another week next week to judge the AUD's safe haven status.
Oh, and the true measure of whether the AUD safe haven status has any legs – AUDCHF – has fallen 10.24% this week.
Have a great weekend and good trading.
Greg McKenna