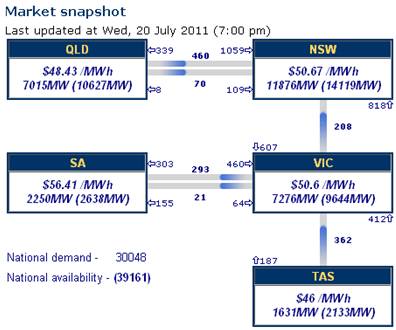 Nuclear doyen, Ziggy Switkowski, must be quite frustrated. Why doesn't everyone get it? His beloved solution to climate change and energy security is not just a political hot (dare I say radioactive) potato, and the recently announced $10b Clean Energy Finance Corporation won't be allocating a single dollar to funding it. His most recent piece on Business Spectator bemoans the fact that while the government is happy to spend $40bn on the NBN or on 12 Collins Class submarines, that a fleet of 10 nuclear reactors is somehow off the table.
As I have previously mentioned, Ziggy's problem is that since the Hilmer reforms of the mid-1990's, we no longer centrally plan our energy supplies. Yes, there is still high level oversight creating, operating and monitoring the wholesale market, and controlling the natural monopolies in the supply chain (such as the "poles and wires" businesses), but new entries have been left to the market.
In the early days of the National Electricity Market (NEM), there was substantial oversupply and no capacity needed to be built. But since the supply/demand balance has tightened, new proposals are coming through and have been commissioned. These include new gas-fired generators being built by the major utilities as well as renewable power under the Mandatory Renewable Energy Target (MRET).
What governs the choices here is basic new entry economics. Proponents of new capacity must determine what plants have the least cost Long Run Marginal Cost (LRMC); for only least cost LRMC plant has the opportunity to earn its proponents a decent return on capital over the life of the asset. Anyone can put forward a combined cycle gas plant, a new coal-fired power plant, a nuclear plant, or any other low or high emission intensive plant. What they must do, from 1 July 2012 onwards, is also factor in the carbon price. The new challenge is to provide least cost LRMC, inclusive of carbon.
For the record, I don't think nuclear should be ruled in or out. It should have to compete in the market place for new entry. The challenge for nuclear (and all other) new entry is to find a site, secure finance, select a sound cost-effective technology and also achieve regulatory approval for the project. If a proponent can do all of that, and come in at a reasonable cost, then great.
The NEM has become efficient by substantially removing government from the decisions of new plants and leaving it to the private sector. This has largely been quite successful. As the Garnaut Review suggested, those areas of the grid that remain substantially government owned are now the ones where we find the highest recent price rises, owing to perverse incentives such as "gold plating" infrastructure.
Why would we go back to a centrally planned system where lobbying the government, for say $40bn, to implement a certain technology, is very unlikely to result in as efficient an outcome an outcome as the open, national grid and market that we already have?
If nuclear can compete then bring it on. Otherwise, what on earth is the point?