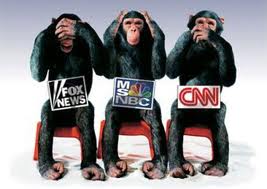 One of the reasons I first started blogging was a feeling that the mainstream media is doing a terrible job educating people about some of the biggest issues that we face today. I suspect that most of my colleagues at MacroBusiness feel the same way. Having spent several years as a financial journalist earlier in my career, I am not completely without sympathy for those in the business. Most newspapers today are understaffed, journalists are underpaid, and competitive pressures mean that quantity and speed are valued over quality. Regardless, there is no question that the mainstream media has lost its way. Recent media coverage of President Obama is a perfect illustration of what is wrong.
In a town hall meeting last Tuesday, Obama opened the floor to questions from everyday Americans via Twitter. The Boston Globe did an analysis of the 13,000 questions that flowed in from the public, comparing them to the questions that journalists asked Obama (h/t James Fallows).
And the results are very interesting, as you can see below: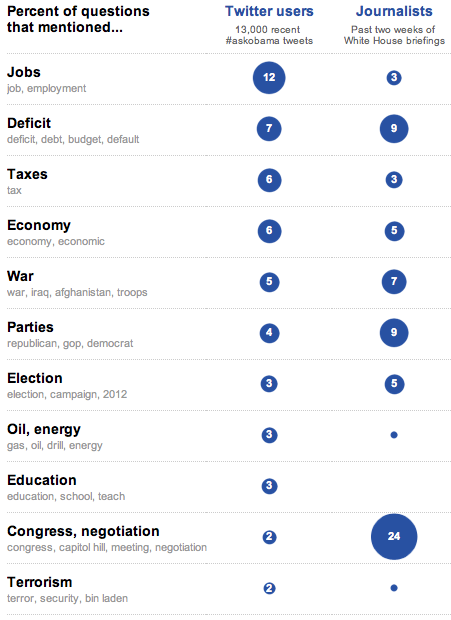 In essence, the public's main concern today is the abysmal state of the jobs market. As you can see from the chart above, however, mainstream journalists are largely ignoring this issue. Instead, they are obsessed with writing about the machinations of Congress and party politics, issues that the general public is actually not all that concerned about. In political journalism, this has been termed "horse race" journalism — the tendency of reporters to treat politics like a sport; hence the obsession with poll numbers and constant comparisons between different candidates.
Never is this tendency more apparent than after political debates, when talking heads on cable television waste hundreds of hours pontificating about irrelevancies such as body language, which color tie a politician decided to wear, or who had the shiniest teeth. How about some policy analysis or fact checking? Oh no, the public isn't interested in that…
But I digress. Let's take a look at the New York Times's lead story on the debt ceiling debate today, which is a real beauty of the horse-race journalism genre.
WASHINGTON — President Obama made no apparent headway on Monday in his attempt to forge a crisis-averting budget deal, but he put on full display his effort to position himself as a pragmatic centrist willing to confront both parties and address intractable problems…

He said that he was willing to take the heat from his own party to move beyond entrenched ideological positions and that Republicans should do the same. And he continued to insist on "the biggest deal possible," saying that now is the best opportunity for the nation to address its long-term fiscal challenges.

Republicans dismissed his performance as political theater…

Seeking to shed the image of big-government liberal that Republicans used effectively against him last year, he has made or offered policy compromises on an array of issues and cast himself in the role of the adult referee for both parties' gamesmanship, or the parent of stubborn children…

Mr. Obama did not shake Republicans' resolve to oppose any increases in taxes for wealthy Americans and businesses, as he proposes. "Eat our peas?" asked a mocking news release from the office of Speaker John A. Boehner, Republican of Ohio, placing the blaming for the impasse on Mr. Obama for demanding "job crushing tax hikes."
So let's see. The US economy is teetering on the verge of a double-dip recession, nearly 10% of the population is unemployed, and if the politicians don't come to a deal, the Treasury is going to have to halt interest payments on the debt by early August.
And what does the New York Times have to say?
How Obama is positioning himself. Taking the heat. Political theatre. Casting himself as the referee. Gamesmanship. Mocking news releases. Placing the blame.
In other words, it's just a sport. Any real policy analysis here? Any effort to fact check the politicians' statements? No.
Thank goodness for blogs.