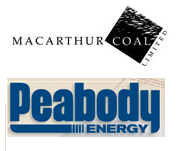 MacArthur Coal (MCC) has received a take over bid from US energy company Peabody in conjunction with ArcelorMittal – the world's largest steel maker.  The offer is for $15.50 per share, minus whatever dividend MCC pays this year.
MCC has three operating coal mines which are all situated in central Queensland – Moorvale, Coppabella and Middlemount (which only just starting operations recently).  It also has several leases and is looking to develop at least one new mine in the next few years.  Macarthur is the world's largest supplier of low-volatile PCI (pulverised coal injection) coking coal, which is used in steel production.  Although this sounds impressive, the use of PCI is a relatively new trend in steel making and it is only used to replace some of the coke required in steel making.  To put MCC's size in perspective, MCC mined 6.4 million tonnes of coal in 2010 compared to 37 million tonnes for BHP Billiton.
Despite its (relatively) small size, MCC still provides a high-demand product that is currently trading near the levels of traditional coking coal.  It also has two stable, low cost assets with a history of profitable production (Coppabella and Moorvale) and has just started operations at a third (Middlemount).  MCC's figures look pretty good too – repsectable return on equity (ROE), net-debt free and low intangible assets.  Their was a fairly decent capital raising this year, however analysts are still forecasting ROE of 21% for FY11.
Given this is not the first time MCC has received a takeover bid, the move by Peabody should not come as a surprise to the market. MCC's closing price yesterday was $11.08, so the $15.50 bid represents a substantial 40% premium. So either MCC is currently undervalued, or Peabody and ArcelorMittal are questionably exuberant.
Is the bid a good deal?
We love share market bids at Empire Investing because we get to compare our valuations against the bids of the suitors.
Using an equity per share base of $5.80, a normalised ROE of 20% (dropping to the the recent average of 16% over the next 5 years),a required return (RR) of 15% and a reinvestment ratio of 45% of NPAT, we value Macarthur Coal at $12.50.
So the suitors' bid is pitched at decent premium to what we consider MCC's value is at an RR of 15%.  To be fair Peabody may be chasing an RR more like 12.5%, which increases the value result to $13.70.  Of course, if MCC can maintain normalised ROE at the 20% level over the next 5 years then our value calcs come in at $17.50 (for an RR of 12.5%) – making the bid price of $15.50 a very nice discount to value.  This would require a good start up for its Middlemount operation, no extreme weather events, a continuation of record-high PCI prices and an improvement in MCC's ROE average compared to the last 5 years.  In essence it's a punt on the China boom story and MCC's expansion plans.
We consider MCC a classic commodity business (price taker, not a price maker) so we do not consider it investment grade for our portfolio.  However, for Peabody and ArcelorMittal it may turn out to be a good buy if they can extract full-value from MCCs assets and coal prices stay elevated.
In any event, I bet the current shareholders are salivating at a 40% increase in their stock value.
Disclosure: The author is a Director of a private investment company (Empire Investing Pty Ltd), which has no current interest in the businesses mentioned in this article.  The article is not to be taken as investment advice and the views expressed are opinions only.  Readers should seek advice from someone who claims to be qualified before considering allocating capital in any investment.