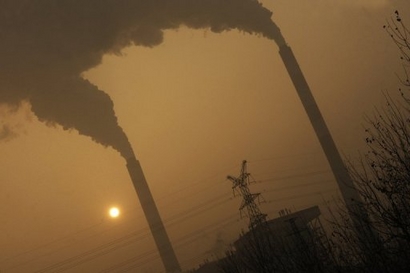 There seems to be a lot of confusion around on this "carbon tax" and a lot of it seems to be due to the terminology that we're using. I have been asked a few times "what is carbon pollution and how do you measure it". I've also seen a variety of commentators pointing out (as if we didn't know) that CO2 is odourless and colourless, as if this scientific revelation somehow nullifies the science of climate change or suggests that we are on the wrong path addressing it.
The problem is that the term "carbon pollution" conjures up sooty smoke billowing out into dark clouds into the sky. People are expecting "carbon" to be like a black powdery substance. And "pollution" is associated with the idea of toxic and/or radioactive contamination that is a danger to human health.
But carbon dioxide is none of these things. Yes, CO2 is odourless and colourless. Yes, you can't see it. Yes, plants need it for photosynthesis. Yes, we breathe some if it in and we breathe more of it out. Yes, pictures of power stations show the steam coming off the cooling towers, not the stack showing (often invisible) exhaust gases coming off the top (except for the one in this post!). All true.
Personally, I have always preferred the more accurate term "greenhouse gas emissions". In fact, I have had (and lost) arguments against people that want to use the term "carbon pollution" when I find it misleading. Greenhouse gases includes all the gases that have been proven to cause global warming and have global warming potential (GWP) factors associated with them, such as methane CH4 (21), nitrous oxide N2O (310) and so on. The GWP shows the impact, in terms of CO2 equivalents, that each tonne of this gas has in the atmosphere. However, given that "greenhouse gas emissions" is such a mouthful, "carbon" has become the industry's shorthand language for describing this collection of gases, hence "carbon market", "carbon finance", "carbon trading" etc. Note as an aside that the largest trading exchange for "carbon" instruments in Europe still uses the term "Emissions".
But despite its factual inaccuracies, "carbon pollution" has become the language used to explain the concept of pricing emissions to the punters. Why? Well, ask someone the street what the purpose of an "Emissions Trading Scheme" is. Blank look? Now try "Carbon Pollution Reduction Scheme". Um, well maybe it's trying to reduce carbon pollution. It amuses me that some commentators go to pains to add "dioxide" in brackets after "carbon", in some kind of protest of the use of the term "carbon". Thanks for that. This is just industry jargon. Do we protest so vigorously when "smoking break" is abbreviated to "smoko" or the AUD-USD exchange rate is referred to as "the Aussie"?
All the arguments pointing out the nature of carbon dioxide are very relevant in an argument about whether it should be called "carbon pollution" or not. But they are not at all relevant in helping us understand the science of climate change or in addressing it at least cost via use of a price signal.