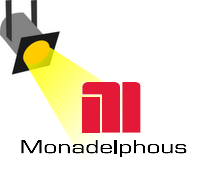 The equity base has grown substantial over the last 5 years due to $72m in retained earnings and over $23m in capital raisings.  Capital has been well utilised, with incremental returns on new equity averaging 40% for the last few years – this indicates acquisitions are being made at reasonable prices.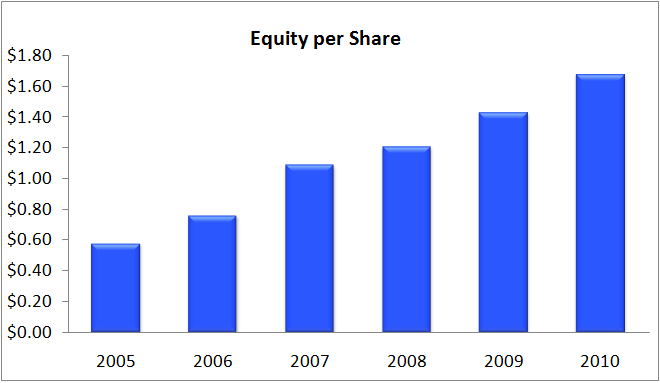 Earnings per share have also increased over the last 5 years, although at a slower rate than equity per share.  This is reflected in the downward trend in ROE for the last few years.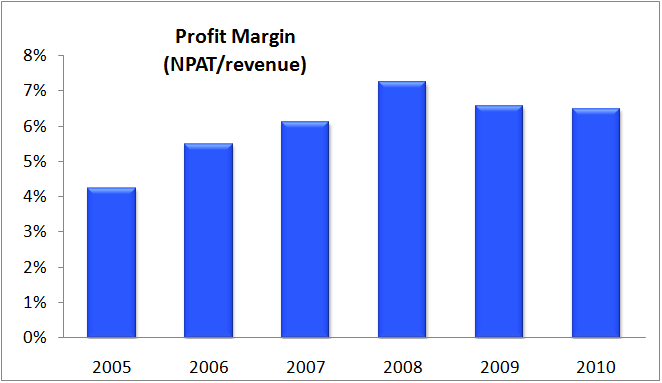 Profit margins (NPAT/revenue) have increased over the last 5 years, moving from 4.3% to 6.3%.  This indicates costs are being controlled and earnings increases are not being derived solely from an increase in work volume.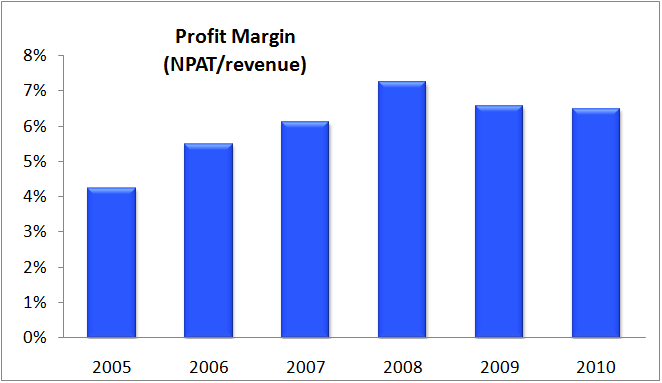 MND is essentially debt free, with a small $33m holding more than offset by its cash holdings.  In addition, it's total debt sheet could be paid for by less than 6 months of net earnings.  Not bad at all.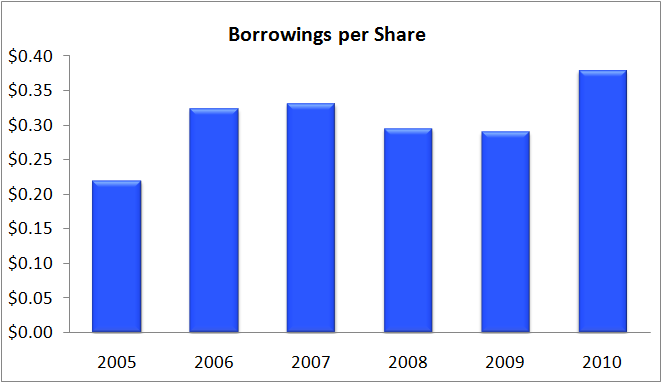 Management
The majority of MNDs board members have been at the helm for a long time, with 3 of the 5 members serving since 1992.  Resumes for the board team are very brief on both the website and in the annual reports (frustrating), however the majority appear to have extensive engineering and construction industry experience.
Management have maintained consistent and sensible strategies over the last several years.  They have pursued revenue diversification (through expansion into the energy sector) as well as taking advantage of lower steel construction costs through their Chinese manufacturer.  Management focus on ROE in the annual reports is also a great sign – a focus which is reflected in high returns on incremental equity.
Management remuneration appears sensibly balanced, with around 15% of salaries coming in the form on short-term cash bonuses.
Opportunities
MND is leveraged to the commodities boom, with several construction projects in the LNG, coal and iron ore industries
MND as a maintenance revenue base, which would help to provide continuity of earnings
MND management appear to be experienced and committed to generating high returns on shareholder equity
Risks
The commodities boom may create skills shortages and push up construction costs – this is already being seen in projects like the Worsley Alumina expansion
MND's share price will be highly sensitive to commodity prices, particularly LNG, coal and iron ore
Summary
In summary, Monadelphous appears to be one of the best listed engineering and construction companies on the ASX.  Return on equity is impressive, equity per share is increasing, debt is negligible and management appear capable and committed to providing return on shareholder's capital.  If MND can continue to win large resource sector jobs (particularly maintenance contracts) whilst diversifying into the energy industry, they will go a long way to insulating their business from commodity price shocks.
Despite their great fundamentals, MND still has no competitive advantage over its competitors such as Leightons and Thiess.  As such, we consider MND a Good company.
Valuations
Using an equity per share base of $2.00, assuming normalised ROE moves from 75% to 65% over 5 years and reinvestment stays at 14% of NPAT, Empire Investing values MND at $15.85 per share.
As a good company, we require a 50% discount to value for. As such, our maximum buy price is $10.56.
Disclosure: The author is a Director of a private investment company (Empire Investing Pty Ltd), which has no current interest in the businesses mentioned in this article.  The article is not to be taken as investment advice and the views expressed are opinions only.  Readers should seek advice from someone who claims to be qualified before considering allocating capital in any investment.