The effects of the slowing rate of credit issuance (disleveraging) continue to seep into the broader economy. With sales volume charts like this in Queensland it really was a matter of time before something had to give.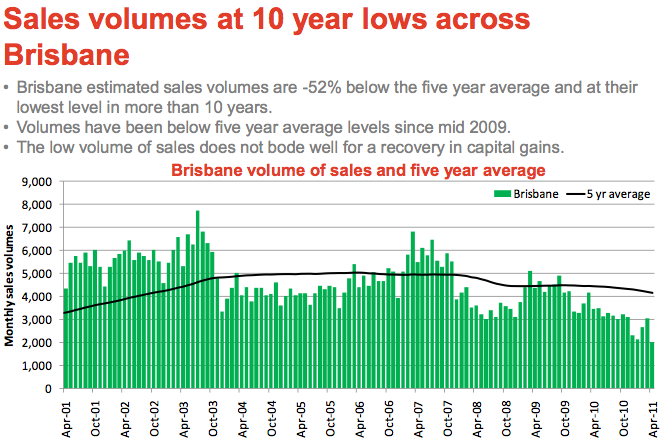 It therefore shouldn't really surprise anyone that the Queensland Real estate industry is in for a tough time after years of easy ridin' on the back of credit driven mania. Today another small player has fallen on tough times.
Queensland-based real estate group has called in administrators after falling victim to the property market slump. The founder of Go Gecko Pty Ltd Geoff Doyle has also been ousted from the chief executive's role, The Courier-Mail reports.

New chief executive Noel Scully told the paper there were a number of reasons for Mr Doyle's departure.More than 40 franchisees attended a meeting on Tuesday, where they were told about eight company-owned real estate agencies were now under review.

Mr Scully blamed difficult conditions for the decision, but said as few as two outlets would close and franchisees would not be affected. The administrator, Vincents Chartered Accountants, said a review would determine what the future course of action.

Go Gecko was founded in 2006 and carved out a niche by capping commissions. It has more than 50 outlets, the vast majority in Queensland and a handful in South Australia, Victoria and the ACT.
Unless we see a major turn around in credit issuance I really can't see the other branches lasting. It would seem that the Real Estate market is in for some consolidation. Death of the little players while their carcasses are picked over by the big boys as they too down-size to meet the market.
Next to go Mercedes and BMW leasing services.
Go Gecko is not the only one taking a property hit today.