As we know, Chinese inflation further accelerated in June.  The headline Consumer Price Index (CPI) rose 6.4% compared to a year ago, vs. 5.5% in May.  This is slightly above consensus estimate of 6.3%.
Less well understood, however, is how significant food prices are in this equation. Looking at prices in different categories, food prices inflation is the leading factor, rising 14.4% yoy in June, accelerated from 11.7% in May, while non-feed prices have only risen by 3.0% yoy vs. 2.9% yoy in May.  To put it bluntly, food inflation is out of control.  Unlike earlier this year when vegetable prices were leading the gain, meat products are the major category of food items which led the increase.  Meat products prices rose by 32.3$ yoy in June, rising from 24.3% in May, going  out of control as we know that pork prices have been on the rise.
On a month-on-month basis, the headline inflation rose 0.3% in June.  Food prices rose by 0.9% mom in June vs. –0.3% in May, but non-food prices was stable, rising 0%, vs. 0.2% in May.
In another note, the Producer Price Index (PPI) rose 7.1% yoy vs. 6.9% in May, slightly higher than consensus again.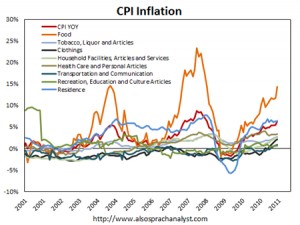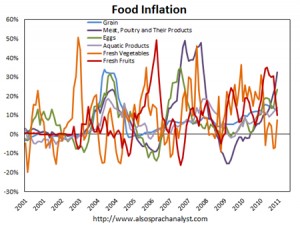 If we take away food, inflation is modest.  In fact, there is no inflation whatsoever in non-food item if you look at the month-on-month figure.  In that sense, you can say that perhaps inflation in China is somewhat under control, but not if you include the food category.  Of course, the latest PMI figure shows that prices pressure may be easing, but the effect is yet to be seen on the CPI figure.
On the whole, it is very hard to claim with much certainty that inflation is under control.  The inflation report blames the so-called carryover effect, which means the the year-on-year figure shows acceleration not due to the latest price increases, but on inflation of the previous period.  If we look at non-food item, it is probably true, as inflation in non-food item is practically non-existent, but it is harder to tell as far as the food picture is concerned.