Yesterday Michael Yardney the director of Metropole Property Investment Strategists penned a property piece in Smart Company that began:
I've decided that I'm not going to participate in the property downturn and I would like you to join me.

By now you are probably sick of hearing about the economic wows of the world and how Australia's economy has now hit some speed bumps. Many of the messages we are getting tend to scare us, while at the same time completely ignoring the solutions on which we need to focus on to move forward.

Instead, today I'm going to share with you four keys to succeed in any economy.
Mr Yardney proceeds on a power of positive thinking sermon that should have him supporting Anthony Robbins in the near future.
And it's no wonder that Mr Yardnay wants you to think positive. Housing investment over the last decade has slowly evolved into a model based purely on negative gearing and capital gains. This has worked very well for many people and has been a successful model for wealth creation for an entire generation. But that model required every growing private sector debt. Without it house prices could not have continued to grow and investors could not have worn the costs of the loss making venture that renting houses has become. Without positive thinking, with endless people buying houses from one another, the entire model simply doesn't work.
If you think about it though, in normal times, it doesn't make a whole lot of sense to pay a dividend to an investment in the hope that it's price will increase. And, normal times are now returning.
Recently house prices have been falling around the country because the rate of growth in credit issuance towards housing has slowed. No amount of positive thinking or burying your head in the sand changes that fact. The question of whether now is the right time to purchase property is to ask if you think in the short-to-medium term there is likely to be a return to growth in credit that can once again support that old, rather odd, model. A quick glance at the household finances chart in the recent RBA chart pack shows that for only the second time in the last 20 years debt to household income is now falling.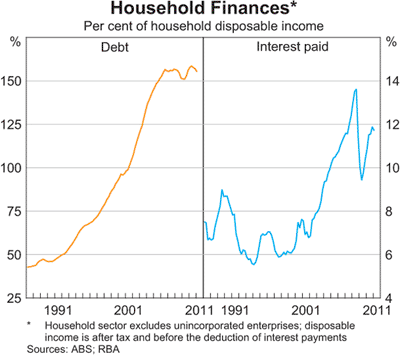 The only other time this has occurred since 1990 was during the GFC when Australia last witnessed falls in housing prices. Although some people like to report that housing bounced back because it is cyclical, the facts are that it actually took a massive stimulus package from the government and stimulatory interest rates from the RBA to reverse the trend. Yet ironically while informing his readers that rich people are getting richer Mr Yardney  also states:
Let's face it, unless you do it yourself, no rescue plan is being prepared for you. The Government is not coming to bail you out, like some governments have done to their banks or certain large companies.
If that is the case then along with yesterday's CPI news it seems that interest rates are not going to fall any time soon. This means that the rate of growth in credit issuance is likely to continue on its downward trend. If this does occur then prices will continue to fall.
Yesterday's CPI rate is likely to play a major factor in housing market for the short-to-medium term and there is the potential that Australia is about to enter a period of stagflation. Even if you think all of this news is "doomy", thinking positively and pretending Corollas are Mercedes isn't going to change the facts. What investors in any asset should be doing at all the times is assessing the risks to their portfolio by being open minded in their assessments. Right now there are significant downside risks for housing and to simply pretend otherwise could well be personal economic suicide.
In an attempt to make it seem that unless you aren't rushing out to buy a property right now, then you aren't ever going to build wealth Mr Yardney states:
Currently, some property investors are becoming wealthier than ever because they own the right type of assets and are taking advantage of some of the best deals available in their lifetimes. While others are just sitting it out hoping that it's going to work out.
It is undoubtedly true that some property investors are becoming wealthier right now. This ignores the fact that there are also undoubtedly many property investors losing money right now. But the fact that some are getting wealthier has nothing to do with the housing market at present. It has to do with the fact that these people were either lucky enough or smart enough to have purchased houses when the economic environment was right to do so. It may also be because the "right type of assets" Mr Yardney is referring to in that particular paragraph isn't actually housing. He finishes with:
So join me and many other successful property investors and become someone who sees opportunities where others see problems. Become someone who seeks growth when others expect collapse. And become someone who sees success when others see failure. I'm not going to participate in the downturn
Without a some sudden positive change in the economy that leads to an upwards movement in the rate of credit issuance the housing downturn will continue independent of whether Mr Yardney thinks he is a participant. If he owns property as an investment then whether he likes it or not he will be joining in. He can take his own advice and ignore  "doomy" macroeconomic data that effects the fundamental driver for housing prices if he wishes. But to tell other people to do so under the guise of wise financial advice is simply pulling out the foghorn again.
Mr Yardney, however, is not the only one turning to whacky pathos in defense of housing at the moment. When I got home from work this afternoon I found that the CBA had dropped the below promotional items in my letter box.  What a shame I'm not a first home buyer who desperately needs a wall to put up a poster.
And yes, that really is a stick of blue-tack.