The ABS employment report remained volatile in June with the headline increase of 23,400 jobs, which was ahead of market expectation of a rise of 15,000, consisting of a large swing between part time to full time employment. The unemployment rate remained unchanged in both seasonally adjusted and trend terms at 4.9%. while the trend monthly change was revised up slightly to 3,800 from 1,800 in May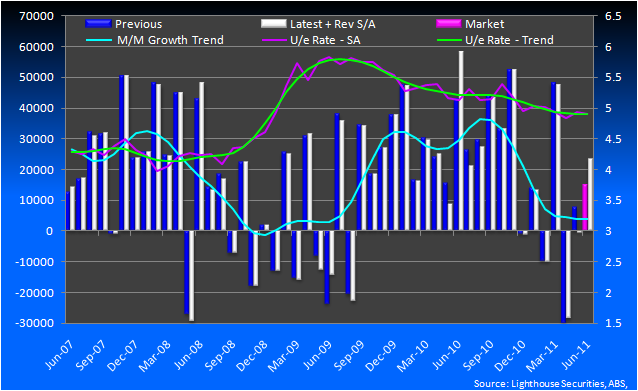 After a large drop over the past two months, of close to 85k after revisions, full time jobs jumped by 59,000 in June while part time employment fell by 35,600. The number of hours being work is likely to be having some bearing on the large swings between full and part time over the past few months (the magical number is 35 hours which distinguishes full time from part time) however that theory is purely speculative.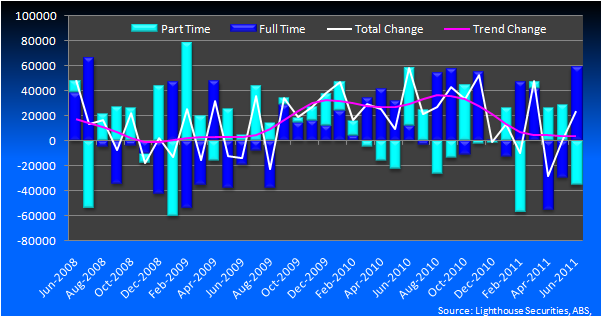 Nevertheless total employment in Australia has only grown by 45,600 since the beginning of the year, well short of the 176,400 the previous 6 months before that and the 362,000 over the preceding 12 months. One positive though it the entire gain has been full time employment which is up 50,300 for the past 6 months (entirely due to the June bounce however) while there are 4,700 less part time jobs.
There is still plenty of slack in the workforce however with the averge work week hovering around historical lows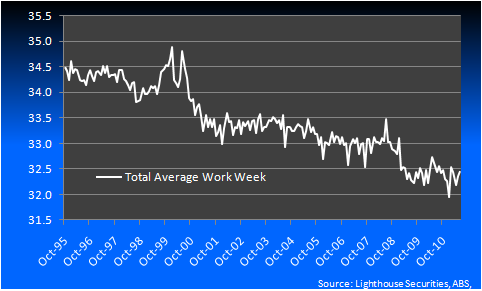 Our favorite leading indicator of employment, the NAB's monthly business survey employment index, suggest that the pace of decline in the annual rate of growth in total employment should ease over the coming months with employment growth remaining subdued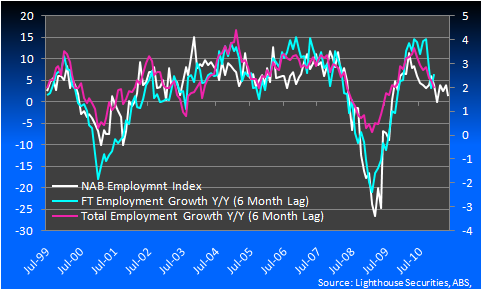 The relationship between the cash rate and employment growth continues to suggest that the current calibration is restrictive enough for the time being.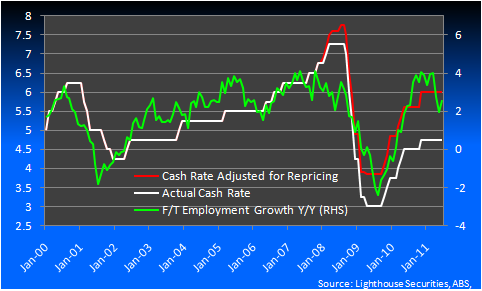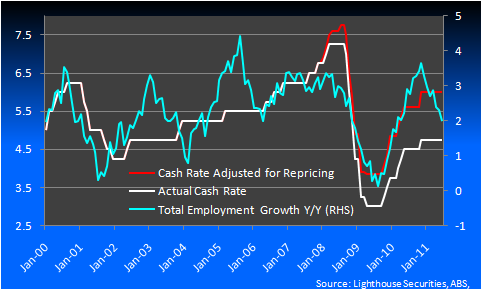 The relationship between retail sales, house prices, interest rates and employment also suggests the weaker employment growth ahead.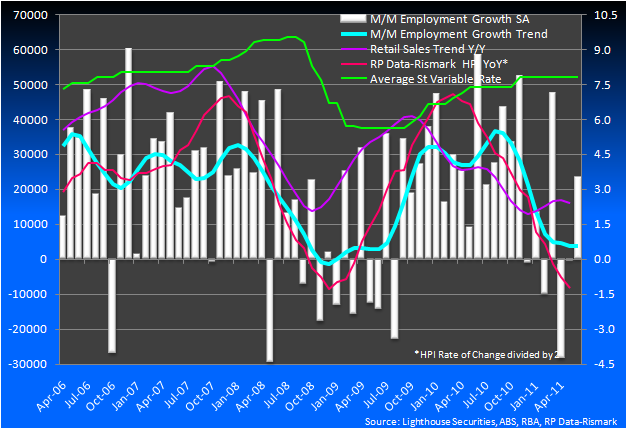 Looking through the volatility over the past few months, by using the trend rate of change in monthly employment growth, there is clearly pressure on the employment market which is expected to continue for some time. This is likely to keep a lid of wage pressure and give the RBA little reason to hike rates any time soon.