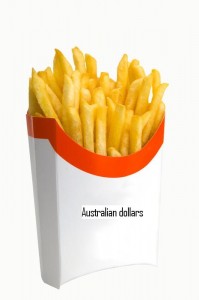 News in The Australian this morning that the Russians are buying Aussie Dollars is just another example of the kinds of forces that are at work as a result of the rerating of Australia and our currency. From The Australian:
The Russian Central Bank will pour up to $US5 billion ($4.7bn) into the Australian dollar in a fresh wave of support for the currency, in a move to diversify its reserves and shift away from the US dollar.

The first deputy chairman of the Russian central bank, Alexei Ulyukayev, said that starting from September, the bank would hold Australian dollars for up to 1 per cent of its $US528bn in reserves.
 There are a few points to make about this situation.
This is a trend we have been seeing for some time now with more and more central banks buy Aussie. Indeed the RBA minutes from the May meeting made the following comment:
The Australian dollar had appreciated to a fresh post-float high against the US dollar. On a trade-weighted basis, the currency was at its highest level since 1985 and had appreciated by 6 per cent since the start of the year. While this partly reflected the general depreciation of the US dollar, the Australian dollar had tended to rise more than most other currencies. An important influence had been purchases by other central banks seeking to invest their official reserve assets.
This Russian purchase is not a very large amount in the grand scheme of things. Global FX turnover in the BIS triennial Survey in 2010 was $4 trillion per day with spot trades representing $1.5 trillion per day of trade.
The AUD trades around $304 billion per day globally and about $80 billion in Australia alone.
This purchase will be spread out over days, week's or months and because of the size of the market should not disrupt normal flow for any great period of time.
So while this amount isn't that large in terms of the overall trade the story and the flow of money into Australia and buying Australian bonds is disrupting our economy because we have seen and are seeing a rerating of Australia and by extension the currency which will keep the Aussie on a higher plain than would have previously been the case. In the Australian article a former colleague, and one market economist worth listening to, Rob Henderson says
"Australia is one of the world's true AAA-rated government debts at the moment," he said.

"There is a lot of fear in the world about the situation in Greece and Portugal and Spain and Ireland. And the US has been given a warning by the ratings agencies that their debt could be reviewed.

"The Australian government is seen as an increasingly strong sovereign. (Fund managers) love the Australian government bond market because it is low risk."
This is the point we make about re-rating. We have:
low debt and fairly solid fiscal position
a relatively strong economy
are tied and tapped into Asia
have a strong central bank with a solid track record
stable government (notwithstanding this parliament's issues) and
the currency is liquid – so ease of entry and exit
So the question is why are the Russians telling us what they are going to do and why is it only 1% of reserves? The answer to the first question is that they recognise that $5 billion isn't that great a number and on the second perhaps it's our share of the global economy which keeps them reticent.  But my guess is that over time they'll buy more Aussie as will more fundies and other central banks.
Now it is important to understand what this does to the structure of the market longer term.
Once these really long term guys have bought they are fairly passive but they don't just sit for ever. They tend to trade their positions around a little. So if the Aussie gets to extremes they might sell some or buy some but they are generally in for the long haul so they won't be spooked out of positions by an equity crash and so on.
Equally the fact that they are buying Aussie and selling out of USD or EUR assets means that the performance of Aussie against these crosses should through time be better than it has been. This implies a higher cross rate and thus Australian business, as noted by Governor Stevens last week, will just have to get used to a higher Aussie exchange rate.
This article in the Australian is indicative of the re-rating of Australia by offshore investors. Schumpeter is being let lose on our economy because of this high dollar and while we know the RBA can't do anything about it I still believe that the Government should help out industry in the same way we do farmers during a drought.