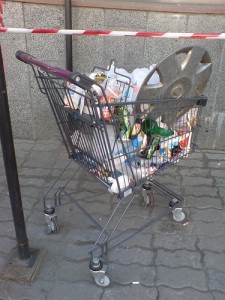 Given Metcash is the small operator within a large duopoly structure, and therefore relies in some measure upon system growth, we can take brokers' attitudes as a good weather vane for sentiment towards the non-mining part of the economy. And it is pretty bearish. Southern Cross is claiming that the Eastern seaboard is already in recession. Meanwhile, the capex boom in resources is the biggest since the 1960s — up to 18% of GDP when Gorgon comes on board. A Jeckyl and Hyde economy:
We have been highlighting our expectation for continued weakness in retail spending and housing activity for the last 18 months. In this regard, all the recent ABS data confirms that strong household savings and softening credit growth will constrain retail spending. Meanwhile, without exception, the recent data also reveals that the housing market has peaked. As a result, we believe the Eastern Seaboard has actually slipped into a recession. Importantly we believe this expectation is unrelated to one-off weather-related issues.
Merrill Lynch has an underperform rating and a price objective rating of $3.50:
It was certainly evident from today's result that Metcash's business model is under pressure in the current environment….where Coles & WOW have increased their price competitiveness and the consumer continues to increasingly buy on promotion. MTS admitted today that it is an inflation play, where it needs 2%-3% sustained inflation to get back to high-single digit earnings growth (and 1.5x operating leverage in its IGA>D business).
Deutsche Bank has a hold recommendation despite having a much higher price target of $4.60:
While we don't think Metcash looks expensive at current levels, we remain concerned about the competitive environment in the supermarket space which could continue to depress operational leverage in FY12. Hold.
Credit Suisse has a neutral recommendation and a target price of $4.20:
A fairly priced business that has circa 5% earnings upside. MTS is a low-growth business that benefits from periodic consolidation (such as Franklins). Low to mid single-digit earnings growth is sustainable, in our view. Upside to earnings from the acquisition of Franklins is around 5% (post divestment of stores) and a share buyback would be 3% accretive. At circa 11.6 times FY12 EPS, MTS appears to be fairly priced.
Not exactly ringing endorsements, despite a predicted dividend yield of 7.6% and a forward PER of 11 times. The implications are also not especially positive for Woolworths and Coles.
http://www.scribd.com/doc/57332793/ML-Daily-20110608
http://www.scribd.com/doc/57333199/dbdaily-4