The latest Department of Employment and Workplace Relations skilled vacancies report provides us with yet another weak leading indicator of employment growth. According to the latest report the trend growth in skilled vacancies fell to 2% from a month earlier where it registered a fall of 1.9%. However if we take a look at the seasonal change over the past three month we can see falls of 2.7% in April, 11% in May and 5.1% in June.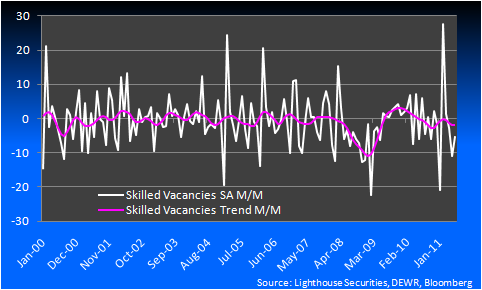 The annual pace of decline in skilled vacancies in seasonally adjusted terms remains down around 20% while in trend terms is down 16%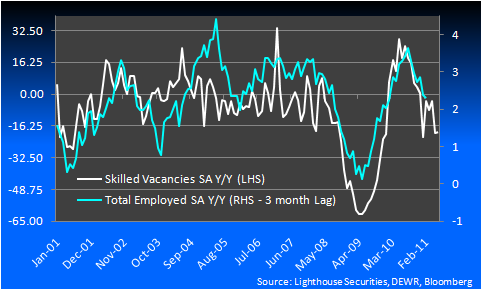 While the NAB employment index is my favorite leading indicator of employment, the annual pace of skilled vacancies, both in Seasonally Adjusted and Trend terms suggests that the pace of employment growth will continue to slow over the coming months.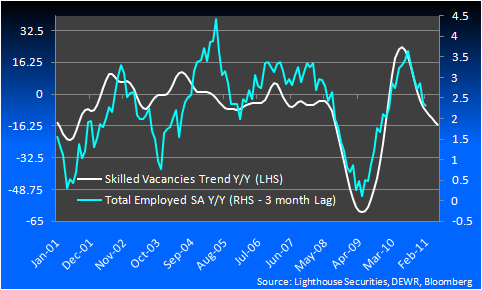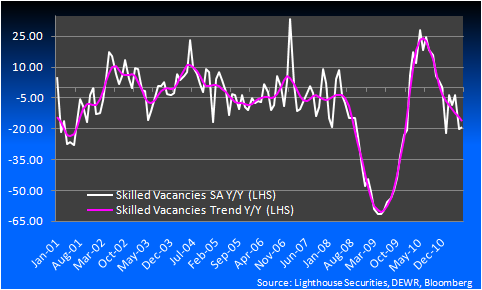 With there being a clear correlation between housing, retail and employment there is a real risk of a negative feedback look intensifying if the employment outcomes deteriorate further over the remainder of 2011.