Yesterday dissolve released their latest business stress test report ( available below ) and as expected, well at least by macrobusiness , the finding weren't  good.
The quarterly cost of All Bank New Asset Impairment Charges (or "Bad Debts") for Australian Banks in the Quarter to March 2011 is $5.1 billion. That is a drop from the post GFC peaks but still well above the average pre-GFC level of $1.1 billion.
The number of companies entering some form of insolvency administration in the month of April 2011 was 812. That figure is the highest April number on record (since 1999). It is a 10% increase over the previous April number of 737 and a 23% increase over the average of the previous 5 years which is 657.
Delving into the statistics reveals problems for Queensland and Western Australia – Queensland's proportion of the National total insolvencies has increased from 14% in 2006 to 20% in 2011 and WA's proportion has increased from 4% in 2007 to 7% in 2011.
Banks have become far more active in taking possession of assets.  The number of insolvency appointments initiated by secured creditors has risen from 6% of the national total in 2007 to 14% in 2011.
This report once again raises the issue of odd behaviour by banks in bad debt provisioning. A quick glance at the first two charts in the report give a fair indication of where we are in the bad debt cycle.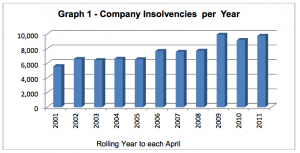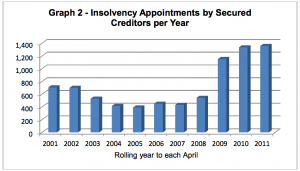 That certainly does not look to me like a trend that says now is the time to lower bad debt provisions.
Once again we see WA and Qld leading the pack in terms of bad news so the FutureBoom! continues. However given the housing market in both of these states it shouldn't really be a surprise to anyone that we are seeing the banks being far less supportive of companies in financial strife. What is most interesting about this data is that it is only up to April and I would have to question given that time frame whether we would even be seeing any fallout from the January natural disasters in this data. I wouldn't expect a company that was trading solvent in early January to find themselves in administration by April even if their business had been wiped out in the flooding. This seem to be supported by the statement in the report.
Looking forward, we expect more of the same.  We believe there remains a significant backlog of pending recovery actions at the ATO which will keep insolvency numbers high through the rest of 2011.  Further, we would expect insolvency numbers in Queensland to further increase as any effects from the Queensland floods has yet to be reflected in the numbers.
So it seems what we are actually looking at here is a rising level of company insolvency pre-natural disaster. This raises a couple of questions for me.
How many of these companies are trade exposed that have collapsed due to the 90c + AUD ?
How many of these companies took advantage of historically low interest rates and borrowed beyond their capacity ?
Exactly how exposed to their loan book are Queensland's banks especially given the trend in mortgage arrears.
More broadly this also brings me back to the five risks I mused over a couple of weeks ago.