As my long term readers would know I have followed AFG mortgage data for quite some time. I am aware that it is not actual mortgage issuance, is susceptible to variations in AFG's market share, seems to have a disproportionate spread across the states which doesn't match their size, and also has a bizarre trend in ever-falling LVRs that I just can't work out ( it continues this month ). But having said all of that, they are still the only available leading indicator of what is happening in the mortgage market and I have found previously that their data trends match that of the official ABS data that is released many weeks later.
Their latest report is out, and it looks like one for the bulls.
SURPRISE UPLIFT FOR MORTGAGES AS INVESTORS SWOOP: MAY FIGURES

Mortgage sales increased by 18.8% in May as investors took advantage of softer market conditions according to AFG, Australia's largest mortgage broker. While May is traditionally a strong month for sales before the quieter winter period, AFG Mortgage Index figures showed surprising strength, after a natural disaster-hit first quarter, and subdued figures for April. Total mortgage volume for May was $2,517 million – only 1.7% lower than the figure recorded for May last year ($2,561 million).

AFG processes 10% of all Australian mortgages (Source: ABS and AFG data) and its trend data is usually strongly indicative of ABS figures published six weeks later.

Victoria and New South Wales saw the biggest month on month upswings in mortgage volumes, increasing by 27.2% and 23.3% respectively. Both states also had the highest proportion of investment loans with 38.8% of loans in Victoria and 37.9% of those in New South Wales, processed for investors. May also saw a surprise increase of investment loans in Queensland, up to 36.5% – its highest such figure for well over a year.

Mark Hewitt, General Manager of Sales and Operations says: 'Property investment has remained at consistent levels throughout the ups and downs of the property cycle, but strengthened significantly in May. It is certainly a buyer's market right now, and investors looking at rising yields are probably better insulated from the impact of rising interest rates than other types of buyers.'
I am not too sure why AFG have decided to concentrate on the "investors", a quick look at the data tells you that the change from previous months in percentage terms isn't particularly large. The rises actually seem to be fairly broad-based and significant, but there are definitely some differences between the states. Below are some charts of volumes and total mortgage values processed by AFG by state over the last 2 years.
New South Wales seems to have recovered: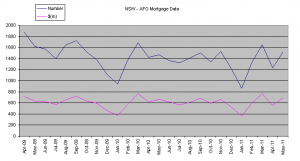 As has Victoria: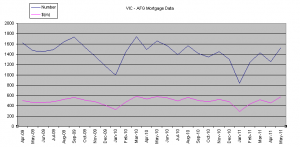 SA seems to be reaching for the moon: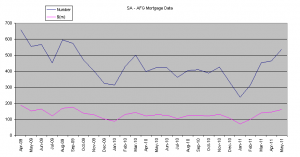 WA seems to have improved but remains in a downward trend: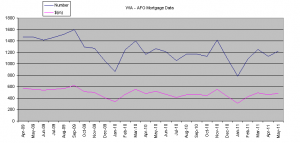 But once again Qld do not seem interested in joining in: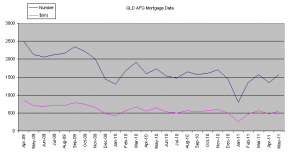 The data for Victoria, New South Wales and South Australia certainly seems positive for the housing market but I am also aware that it doesn't seem to have been reflected in some other data, such as auction clearance rates. Our resident loans officer "Stormboy" has already informed us that his loan issuing organisation noticed this uplift in May but it has now fallen off again, but the uplift was mostly in re-financing.
A dead cat bounce? A bull trap? the last stampede of the greatest fools ? Or something more sustained? Have I been too bearish on the future demand for credit towards housing?
We will have to wait for the following months data from AFG and the ABS to find out.