Last week's GDP figures in the US confirmed the momentum in the US economy's recovery is slowing as the impetus from stimulus packages and government largesse fades and the true pulse of the economy becomes evident. This trend appears set to continue if last night's report on the non-manufacturing sector from the Institute of Supply Management is any indication of what we can expect. The latest reading of the diffusion index, where a reading below 50 indicates a contraction in activity while a reading above 50 indicates expansion, showed that the pace of expansion slowed noticeably in April as the index fell from 57.3 to 52.8 and is now well off its high from February of 59.7: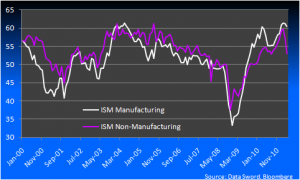 Incidentally the latest 2 month fall is the worst back to back performance for the non-manufacturing ISM since the collapse of Lehman Brothers where the index slumped from 49.8 to 37.6. While the ISM's manufacturing index still remains high, printing above 60 for the 4th straight month a couple of nights ago it too appears to be rolling over. This slowdown in the pace of manufacturing expansion can also be seen in some of the Fed regional manufacturing surveys: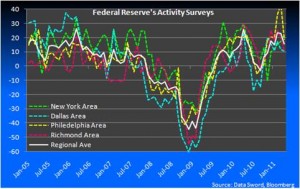 With this slowdown, a housing market that is taking another leg down, employment growth that also appears to be slowing and a weak consumer sector, it is no surprise that Bernanke and the Fed are persisting with QE2: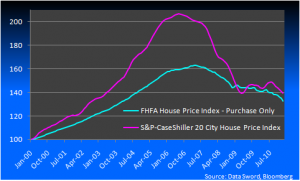 The likelihood of QE3, should the slowdown in the US economy persist, still seems remote, even if the recent pull back in commodity prices were to take some of the heat out of recent inflationary pressures. And, according to one of my favourite economic commentators, John Mauldin, rents make up 23% of total inflation and 40% of core inflation. With more and more Americans shunning home ownership in favour of renting after the collapse in housing prices, rents are forecast to rise 10% this year which would have a significant impact on both headline and core inflation. However, while the chances of QE3 seem remote, what other choice does the Fed have when the government is staring down the path of austerity as the economy slows?