The trade balance roared back in to surplus in March as exports surged 9.2% over the month, outpacing the 1.2% rise in imports. The surge in exports was drive by an 11% jump in non-rural goods exports which account for two thirds of total exports. While imports were mixed with intermediate imports climbing 7.5% while capital goods imports were down 8.3%: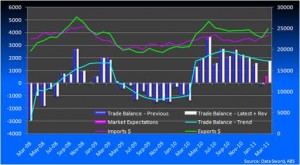 Looking at the non-rural goods exports we can see that the bulk of the improvement came from Metals, ores and mineral exports, while coal imports also improved over the month: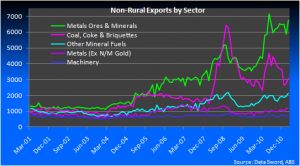 Even though the bullhawks will probably claim this for themselves, most importantly for growth in Q1 the surplus is considerably smaller than last quarter, dropping from $6.8bln in Q4 to $3.2bln in Q1 implying a lower kick for GDP from net exports.