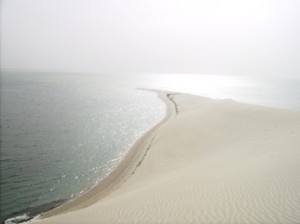 Last weekend I looked at issues of scarcity and abundance, and how that really needs two economic theories for late stage capitalism, or post-capitalist societies, as Peter Drucker described it. One for what is scarce, using "laws" of supply and demand. The other for what is not scarce (the "knowledge economy", for instance) which is not as limited and needs to be subject to different types of thinking. Based on the responses, it looks like that may take a bit longer than a couple of weeks.
Capitalism is in transition, if not trouble, and economic thinking needs to adjust. An episode of FutureTense on the ABC considered the challenges this week: the impossibility of Asia replicating the West's consumption model, the illusion of wealth creation created by the finance sector, the slowing of developed economies because of a sharp decline in genuine innovation.
I want to go through some of the responses to last weekend's blog; they were most instructive. What seemed to be at issue for the respondents is what is "real". Wedding planning, for many, is not real (a position that sounds intuitively about right). By contrast, physical resources, and especially energy, are "real".
3d1k said this. Intangibles, services, are a sort of accretion on top of what is real:
The proliferation of services occurs within the broader success of industrial application and innovation. Furthermore, a services economy can only grow significantly in times of economic prosperity. Economic stagnation or decline will result in a corresponding decline in the services sector.

In reality, in this modern world, these sectors are intertwined, but in my view, the industrial sector is paramount, industrial growth in effect giving rise to the services sector.
Alex Hayworth was more persuaded by the reality of intangibles:
As society becomes more and more service oriented, more and more of our "consumption" becomes the consumption of services, rather than material objects. This is not saying that the consumption of material objects declines – clearly service economies tend to be the most affluent and therefore the biggest consumers of stuff in the world. What I am arguing is that the consumption of "stuff" becomes a smaller and smaller proportion of what we value; even when we consume stuff, we are prepared to pay high prices for the elaborate preparation of it – dinner at a three Michelin star restaurant, anyone? As a result, less and less of economic growth represents an increase in the stuff consumed, more and more of it represents either straight out services or services that enhance our enjoyment of stuff we already consume on a regular basis.
Q Continuum, who had had a few whiskies, perhaps even a few too many, was in the anti-wedding planner camp. He put his finger on something important: that the best economic growth (i.e. increase in the rate of transactions) will come from transactions that REDUCE consumption of finite resources :
But having a wedding planner pay their dog trainer with money they earned by supplying services to the young personal trainers is not a real economy. No one in that little transaction merry-go round is making something better, more efficiently, with less energy, materials or human labour. And I believe that is the essence of improving the living standards of humans – increased productivity.
And so on. I believe the debate demonstrated what I am talking about. That we need different ways of interpreting what is scarce and what need not be scarce, such as wedding planning (although, happily, not films about wedding planning starring Jennifer Lopez, which surely is something that can only happen once).
So let's start with a consideration of what is definitely "real" in what we call economics:
1. Transactions are real. They are a social artefact that defines the rules of value and obligation. They definitely exist and for society to work they must exist. However, they are a SECOND ORDER reality. Money is a symbol of something else. The weakness of economics is that there is tendency to assume that transactions are more real than what they represent — getting the cart before the horse, as it were. Still, transactions are real.
2. Scarce resources, such as food, energy, water etc. These are definitely real, we cannot live without them and they are finite.
Now here is a list of things whose reality is less certain:
1. Wedding planning. Yes, it exists, but we can almost certainly do without it.
2. Derivatives. Yes, they exist, but as an exercise of making money from money, the more they accumulate, the less real they get. At best, they become a kind of meta-money, which is less real than "normal" money: bank lending, equities, bonds etc.
3. Brands.
4. Social media.
5. Intellectual property.
6. Barry Manilow songs.
Now if we agree that transactions and scarce resources are, definitely, real, then we see the beginnings of my dual track economic theory, one subject to rules of scarcity (resources etc.) and the other subject to social rules about what is healthy for the system and the people within it (transactions).
Transactions, which are based on agreements (to transact) can continue to grow sustainably. They are unlimited, or at least not subject to the kinds of obvious scarcity that applies with physical resources. Their unlimited character is surely one lesson of the explosion of derivatives over the last decade, which in my view caused the GFC.
Resources are of course finite and in many areas fast running out.
Economic growth, or transactions, can continue to expand. Resource use cannot. The best bet, therefore, for the future of the global economy, is to encourage transactions that reduce the consumption of resources. I refer readers again to the Sixth Wave which is about the post-industrial shift towards technologies (and, more importantly, new urban systems) that reduce the use of resources. The shift towards services rather than goods is also a part of it; many of the drops in resource usage occur when businesses stop thinking they are selling a good, like energy, and start to think they are selling a service, like heating or lighting. If an energy supplier is selling energy, then they want to sell as much of it as possible, to rip off the consumer. If an energy supplier sells heating, then they want to provide the heating for as little energy use as possible because it is cheaper. The interests of the consumer and supplier are aligned.
So here is my cunning plan. Economists need to stop thinking that the discipline is a science, which is obvious enough, but the fiction continues. The claim that economics is a science encourages static thinking. If you think you have discovered a scientific rule of markets, then you are reluctant to notice how markets are changing in ways that are new. And markets are changing in ways that are new; the economic theories are from last century and they are failing. It is my contention that to track it and understand it we need two models; one for what is scarce, one for what is not.