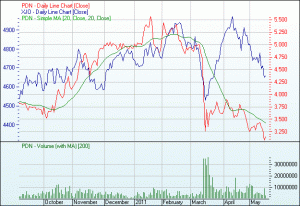 If there is a one way bet in the world economy, it is energy. Each year, China adds the equivalent of Britain's entire annual energy supply and there is little sign of this slowing. So uranium should, as they say, be "part of the mix". Which should mean that Paladin remains a nice little play. But then, of course, Fukushima happened, and the image of nuclear power took a big hit. But has it been overdone? Paladin has fallen from a peak of $5.50 to $3.15, a drop of over 40%. That's quite a correction in a company in probably the best sector in the market. And just how much will demand for uranium fall? In China's Five Year Plan, nuclear power is projected to grow by 40 gigawatts by 2015. That is only a fraction of the projected increase in coal use (260 gigawatts), but still sizeable.
Most of the attention tends to go on the spot price, but this is fairly irrelevant. Nuclear power is a very long term affair, and until the Japanese disaster, the concern was that there would not be enough uranium to feed the demand.
Brokers are generally following the bearish sentiment. Stock Resource has a hold recommendation "around $3.70" and adds this:
Global uranium stocks have experienced an across the board down- rating as a consequence.

The Fukushima Daiichi nuclear accident has changed the structure of the uranium market into the foreseeable future, resulting in a major de-rating of uranium companies.

Paladin has produced another mixed production performance during the March quarter, with significant improvement at the Kayelekera operation in Malawi (despite disruption to diesel supplies) being more than offset by weather related constraints at the Langer Heinrich operation in Namibia.
A negative take. Deutsche Bank in April had a hold and a 12 month price target of $3.50:
Although Paladin continues to under-deliver on production targets, we rate PDN a HOLD as the stock is trading within 10% of our A$3.50 price target. On the operational front, the 134Mlb reserve at Langer Heinrich should ensure that Stage III (5.2Mlbpa) mine life stretches beyond 20 years and will likely support a Stage IV expansion to 8.5Mlbpa, which we include in our base case assumptions. The Kayelekera operation is currently ramping up, although much slower than expected, and should hit design output in mid-2011. This operation should increase Paladin's production (100% basis) from ~6Mlb in FY11 to approx. 7.7Mlb in FY12. The company's growth profile remains one of the most aggressive in the uranium industry. The long-term outlook for uranium beyond 2015 is positive, in our view, despite the recent Japanese earthquake and its likely impact on global nuclear power growth in the near to medium term.
It is this last sentence that suggests the sell down of Paladin has been overdone. Yes, there are potential perils. Its net debt to equity is 44.3%. It is not expected to produce earnings until next financial year. There is the question of its exposure to African risk.
But it is trading well below brokers' target price, the share price has fallen off a cliff and is in a sector in which demand is assured. For the patient investor, there may be a contrarian opportunity. Memories of Fukushima will, sadly, fade. But demand for power will not.
Stock Resource Equities Research