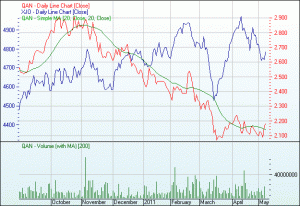 I am not sure exactly why people invest in Australian airlines. Qantas is busy cannibalising itself with Jetstar. This was always a danger for a member of a protected duopoly, that it would go for the low cost solution and get a low cost result. Virgin Blue, sorry, Virgin Australia, is not expected to pay a dividend and its capital growth has been negative compared with the All Ordinaries if one starts at May 2009. It is worse again if one starts from last May. Virgin is projected by Deutsche Bank to be an on an earnings multiple of 11 times next financial year, but that is a big call. Qantas is projected to provide a dividend yield of 6% next financial year, and to be on an earnings multiple of 8.9 times, but that, too is a brave call. The management philosophy is not encouraging and the industry, which is extremely capital intensive, is notorious for losing money. It is also exposed to fuel prices, which is may produce some nasty surprises.
The local airlines may not look too bad to foreign investors, though. Deutsche Bank has produced a report on the global airline industry that suggests Australasia is better by global standards, although it does seem to prefer Latin America.
US: shrinking to profitability and record cash position

For years, the prevailing view was that airlines could not shrink to profitability. However, after years of restructuring, the industry's cost structure is much more variable than it has ever been – as much as 50% in our view. As a result, the US airline industry has been able to shrink to profitability. We think is best evidenced by the industry generating positive free cash flow for 4 out of the past 5 years (which followed a 21 year period when they generated positive free cash flow in only 3 years) and a fleet that has contracted by about 1,000 aircraft over the past years to just over 7,000 units. Furthermore, the industry ended the March quarter with record liquidity of just under $31 billion.

Asia: divergence in dealing with rising fuel prices
Results thus far have highlighted a divergence among the carriers in how they cope with rising fuel prices. For example, Chinese airlines have fared quite well as rising ticket prices have been supported by strong demand. On the other hand, carriers very much dependent on cargo such as Taiwanese carriers (China Airlines and EVA Airways) and Korean Air are experiencing material declines in profitability as cargo traffic growth continues to slow after a strong 2010. Overall, June quarterly results should be negatively affected by the Japanese earthquake as load factors to/from the country remain under pressure (this was somewhat mitigated by strong demand around Golden Week). Lastly, it appears that business travel out of Japan is recovering much more quickly than leisure travel.

Europe: a mixed start to earnings season
European carriers have reported generally narrower-than-expected losses as corporate spending is strong, particularly for long-haul premium markets. Leisure is more of a mixed bag: London leisure market is robust, but UK regions are weaker and Irish originating volumes have been weak. Along those lines, easyJet is planning to cut UK regional capacity by 7% this summer, but increase London
capacity by 7%. Separately, cargo traffic and results were both particularly strong, at least in the case of Lufthansa. We are definitely hearing a different cargo story emanating from Asia.

Australasia: fuel and weather dominate the headlines
Rising fuel costs and the impact of natural disasters in the region have continued to dominate the Australasian aviation space. Qantas and Virgin Blue (recently rebranded as Virgin Australia) have both announced further fuel surcharges over the past several weeks. Furthermore, Qantas is planning to cut domestic capacity in 2H FY 2011 from 14% to 8% and int'l capacity in 2H FY2011 from 10% to 7%.

Latin America: Nicely profitable
So far, only LAN and Copa have reported March quarterly results, and both were very strong. Passenger and cargo traffic were strong and reflect the underlying strength of the Latin American economy which is forecasted to grow 5% in 2011. Copa's 23.9% operating margin – up 0.9 points from a year ago – is likely to be one of the best performers in our coverage universe.
Deutsche has a buy on Qantas and a hold on Virgin. Qantas fundamentals do look superficially more impressive, but the dominance of its position makes is vulnerable — especially to its own strategy.